East of Eden
(1955)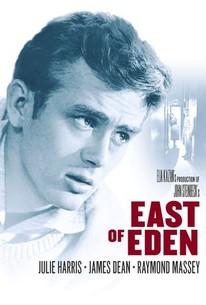 TOMATOMETER
AUDIENCE SCORE
Critic Consensus: East of Eden strains to swell its story to epic dimensions, but James Dean's riveting performance gives this CinemaScope drama much of its raging heart.
Movie Info
This truncated screen version of John Steinbeck's best-seller was the first starring vehicle for explosive 1950s screen personality James Dean, who plays Cal Trask, the "bad" son of taciturn Salinas valley lettuce farmer Adam Trask (Raymond Massey). Although he means well, Cal can't stay out of trouble, nor is he able to match the esteem in which his father holds his "good" brother Aron (Richard Davalos). Only Aron's girlfriend Abra (Julie Harris) and kindly old sheriff Sam Burl Ives) can see the essential goodness in the troublesome Cal. When Adam invests in a chancy and wholly unsuccessful method of shipping his crops east, his wealth plummets. In an effort to save the business, Cal obtains money from his estranged mother (the proprietor of a whorehouse) and invests it in a risky new bean crop. The gamble pays off (thanks in no small part to the war), but Adam refuses to take the money from Cal, and the resultant quarrel causes Adam to have a stroke. Released the same year as Rebel Without a Cause, East of Eden provided Dean with his first Oscar nomination, for Best Actor. ~ Hal Erickson, Rovi
News & Interviews for East of Eden
Critic Reviews for East of Eden
Audience Reviews for East of Eden
Family, love, and digging yourself up from beneath the dirt, (to name a few) are all underlying elements throughout this picture. This beautifully directed, James Dean (his first) lead feature, proves as a defining movie of it's decade. As Cal is ridiculed by his father and looked down upon by others, due to the fact that his brother has everything going for him, including a love interest, he sets out to make a name for himself and turn his life around. A long time ago, his family was abandoned by his mother and he sets out to collect money to help return the favours given by his father. In hopes to be accepted by his father, mother, and respected by the town and his own brother, Cal Trask is one complex character that I could just not get enough of. James Dean is terrific in this film and the screenplay is adapted brilliantly. Lessons about life, love, and happiness leap off the screen and I bought every message. Everything about this film screams greatness in filmmaking to me and it is definitely one of the best films I have ever seen. "East of Eden" is a breathtaking picture.
The son of a farmer desperately seeks his father's approval. In this film James Dean looks like he could either violently explode or be disintegrated into a million pieces by a light breeze. His performance is a showcase in vulnerability, which, in a way, is was acting is about - the vulnerability and availability of an actor's emotional truth and interpretation of the character. The story is fine, but by the end of the film, all I can remember is Dean, whose performance is a master class in what acting should be. Overall, see this film for James Dean.
Jim Hunter
Super Reviewer
Based on a novel by John Steinbeck, and directed by Elia Kazan, this is the first film in the James Dean Trilogy. Set in Salinas, California in 1917, this is the story of Cal (Dean) a young wayward man who competes with his brother Aron (Dick Davalos) for the affections of their hardened father Adam (Raymond Massey). It's basically a Cain and Abel type of story, and agriculture plays an important role even. It's not a strict adaptation of that story, but it is the best reference point to use to describe things. Things are rather dramatic, though they dip into melodrama at times. And, in typical Kazan fashion, there's a lot of subtext, mostly since the imminent entrance of the U.S. into World War i and anti-German sentiment plays a fairly sizable role throughout. It took me a bit to get interested and involved, but once I tapped into this film's groove, I enjoyed it quite a bit. Like the other two film's Dean did I do think it's overrated to a degree, but it's still pretty solid even then. Of the three, this one's #2 for me behind Rebel Without a Cause. It's good, but personally I didn't think it was outstanding or anything. The acting is terrific though, and there's some great camerawork, but it just didn't completely seem like my thing. If it were, I'd probably have a somewhat higher opinion of it. Still though, it's getting a really solid recommendation from me.
Chris Weber
Super Reviewer
East of Eden Quotes
| | |
| --- | --- |
| Cal Trask: | "I've been jealous all my life. Jealous, I couldn't even stand it. Tonight, I even tried to buy your love, but now I don't want it anymore. I can't use it anymore. I don't want any kind of love anymore. It doesn't pay off." |
| Cal Trask: | I've been jealous all my life. Jealous, I couldn't even stand it. Tonight, I even tried to buy your love, but now I don't want it anymore. I can't use it anymore. I don't want any kind of love anymore. It doesn't pay off. |