Eaten Alive
(1977)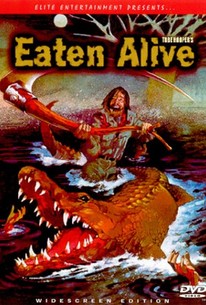 Movie Info
Also known as Death Trap, Starlight Slaughter, Legend of the Bayou and Horror Hotel, the film concerns a maniac (Neville Brand) who lets a crocodile live in the front yard of his motel.
Critic Reviews for Eaten Alive
Audience Reviews for Eaten Alive
½
*** out of **** Tobe Hooper's "Eaten Alive" is a film so tasteless and sleazy that literally the first few words of dialogue spoken are by Robert Englund as Buck, who is as he says, "fixin' to fuck". You might recognize this line of dialogue because it was slightly altered by Quentin Tarantino for his film "Kill Bill: Volume 1". So you see, in spite of the obvious shit - yes, the film is bad, bad, bad all around and there's literally nothing morally redeemable about it -, the film has its admirers. And I'll be damned if I'm not one of them. I've come to the realization lately that I simply love me my sleaze. If I don't get my dose of sleaze at least once or twice a week, I'm rendered incapable of doing much for the remainder of it. That's just how I am. By no means do I consider these sleaze-fests good movies (at least not by my definition, but I'm not afraid to admit that I really do enjoy the hell out of them on occasion. They should be judged for what they are, not for what they aren't. The story...oh who gives a rat's ass? It's about a repulsive and sadistic hotel owner named Judd (Neville Brand) who kills people that he believes are looking to interfere with his ill-fated business and feeds their bleeding corpses to his pet alligator. He starts with a young prostitute (Roberta Collins) for no reason other than the fact that she's a prostitute, or in this case (she's just been evicted from the whorehouse), a former-prostitute. Then he moves onto a family whose dog is eaten by the alligator, putting the young child of the bunch in turmoil and pissing off the parents. The dad hopes to shoot the animal dead; and you see, this just doesn't sit too well with ol' Judd. He carries out the heavy duty with his trusty scythe. To me, good sleaze hits just the right notes between bizarre, silly, and exploitative. "Eaten Alive" explores all three of those areas and scores big in such departments. In fact, those are the only three departments of cinema that it knows at all. It's a dumb, bloated movie; Hooper's first foray into Hollywood filmmaking and certainly not his last, yet certainly not his worst. It's not as stark and effective as TCM but if you can somehow stop yourself from comparing it to that film so much, it's a pretty fun ride. Like all good sleazy horror flicks, there's an attitude to the exploitation. The thing is weird and wild; which makes it all the more exciting to watch. Englund's Buck and Brand's Judd get the best scenes. In fact, they alone create horror movie history; if only a mild contribution (but still, it's a contribution nonetheless). Buck is as sleazy as the movie itself; a psychopathic sex addict who frequents the local brothels and even stops in at Judd's hotel for a night, one which he shall not soon forget. And Judd, well, he's just a really menacing guy; and Brand plays the crazy fucker real well. Both performances are unhinged and fearless, which is precisely what I like about them. Just like the rest of the film, not a single thing about either character is believable; although people like them certainly do exist. Remember that this was made even before TCM was considered somewhat respectable: so nobody on board was really looking for much respect, yet they got some anyways. And you know what; I'd have to say they damn well deserve it. "Eaten Alive" is what it is - a stupid, absurdist horror-exploitation picture that revels in its own infectious excrement. I liked it enough - the sets and animal props may be cheesy as fuck and the violence may exactly be aplenty but Hooper still retains an interesting visual style through grainy camerawork that occasionally gets a little inventive - although I recognize that it's not for everyone. You need to go in knowing that this is not a good movie, but a good exploitation film. Those are two COMPLETELY - and I mean it - different things. But like I said, the film should be judged for what it is and not for what it isn't. And it's an honest reminder of how good the VHS days of horror used to be. It serves as thoughtful nostalgia to some; someday I imagine I'll look back on it quite fondly. Because I'm one demented bastard love child. If you are too, then feel free to rejoice with this fancily ferocious fright flick.
Ryan Marshall
Super Reviewer
How did Tobe Hooper retrogress so far as to go from 'Texas Chainsaw', my absolute favorite horror film to this sophomore effort which could rank as one of the worst? The gap is quality is astonishing as are the formulaic similarities. Neville Brand is a rabid hotel owner, but he is not spine-tingling; he is just unkempt, shambling and tiresome doppelganger of Scott Glenn. The film is also extremely redundant with the same patterned structure: guests arrive and shortly after, Brand attacks them with a scythe. On top of that, the assaults are ineptly directed (a struggle on the stairs is very clumsy) and the crocodile is rarely shown. The whole film looks like it was filmed on a horribly artificial soundstage with fog pumped in and lit with a distracting red gel. In summary, 'Eaten Alive' is sluggish, shallow junk that is scored with a shrill, frequency-scrambling soundtrack and edited with anticlimactic crossfades. At least Robert Englund's scenery-chewing Bud character inspired Tarantino for 'Kill Bill'.
Cory Taylor
Super Reviewer
Not really that great. A mess of madcap insanity.
Tim Salmons
Super Reviewer