The Elephant Man
(1980)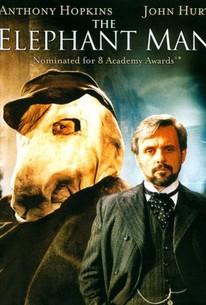 TOMATOMETER
AUDIENCE SCORE
Critic Consensus: David Lynch's relatively straight second feature finds an admirable synthesis of compassion and restraint in treating its subject, and features outstanding performances by John Hurt and Anthony Hopkins.
Movie Info
John Hurt stars as John Merrick, the hideously deformed 19th century Londoner known as "The Elephant Man". Treated as a sideshow freak, Merrick is assumed to be retarded as well as misshapen because of his inability to speak coherently. In fact, he is highly intelligent and sensitive, a fact made public when one Dr. Frederick Treves (Anthony Hopkins) rescues Merrick from a carnival and brings him to a hospital for analysis. Alas, even after being recognized as a man of advanced intellect, Merrick is still treated like a freak; no matter his station in life, he will forever be a prisoner of his own malformed body. Unable to secure rights for the famous stage play The Elephant Man, producer Mel Brooks based his film on the memoirs of Frederick Treves and a much later account of Merrick's life by Ashley Montagu. The film is lensed in black and white by British master cinematographer Freddie Francis. Though nominated for eight Academy Awards, the film was ultimately shut out in every category.
Critic Reviews for The Elephant Man
Audience Reviews for The Elephant Man
[img]http://images.rottentomatoes.com/images/user/icons/icon14.gif[/img]
Directors Cat
Super Reviewer
Take away all the famous names in this work and you'd still be left with the story of a very human soul tormentingly imprisoned in a lump of his own hideous flesh. The big names then do the story well: Lynch controls his usual antics to deliver understatement (a shock in itself), Hopkins as the well meaning doctor who actually uses the animal just like everyone until he realizes his mistake, Bancroft is no embarassment, Gielgud and Hiller are the rocks the story rests on ... but Hurt, as the man himself, is exemplary. Well, Hurt and the makeup guy. Look for the tea scene.
Kevin M. Williams
Super Reviewer
David Lynch's The Elephant Man is a surreal masterwork about the life of John Merrick who was a several deformed man. Beautifully shot in glorious Black & White, David Lynch captures a certain atmosphere with this picture, one that acts as part of the story to elevate the dramatic tone of the experience. Anthony Hopkins is phenomenal as Frederick Treves a sympathetic doctor who tries to help Merrick. This is a superb film that showcases the kindness of the human nature. This is a terrific drama that will certainly please cinema buffs. The acting of John Hurt is spectacular as John Merrick and considering how difficult his performances must have been, he definitely did deserve an Oscar of some kind. Unfortunately this stunning picture would only be nominated and come out empty handed. Everything about this film is beautiful, the cinematography immaculate, and the choice to shoot this in Black & White brings out the subtle qualities of this true story. David Lynch, who previously directed the surrealistic psychological horror film Eraserhead, crafts something unique with The Elephant Man, and he goes deep into the cruelty of humanity and also brings out the best in human nature as well. This is not a film for everyone, but if you're looking for a compelling real life drama, then give this one a shot. With Anthony Hopkins and John Hurt's performances alone, The Elephant Man stands as one of the best films of 1980's. This is filmmaking at its best and David Lynch has made his masterpiece with this one. With a strong cast and terrific storytelling, this is a marvelous film that is moving, poignant and simply unforgettable.
The Elephant Man Quotes
| | |
| --- | --- |
| John Merrick: | My life is full because I know I am loved. |
| | |
| --- | --- |
| John Merrick: | I am not an elephant! I am not an animal! I am a human being! I ... am ... a ... man! |
| | |
| --- | --- |
| John Merrick: | Doctor, there's something I've been meaning to ask you for some time. |
| Dr. Frederick Treves: | Yes, what is that? |
| John Merrick: | Can you...cure me? |
| Dr. Frederick Treves: | No, I'm afraid not. |
| John Merrick: | I thought as much.... |
| | |
| --- | --- |
| John Merrick: | Hello. My name is John Merrick. |