The Enforcer
(1976)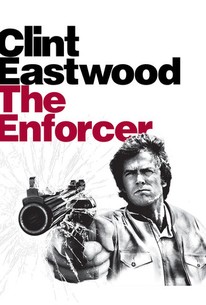 Movie Info
Number Three in the Dirty Harry series, this film equips macho cop Harry Callahan with a female assistant, Kate Moore. Their quarry is a terrorist organization which has kidnapped the mayor of San Francisco. Eventually, Harry and Kate discover that the mayor is being held at Alcatraz Island.
Critic Reviews for The Enforcer
Audience Reviews for The Enforcer
½
Dirty Harry is back. All in all, the movie held my interest even though you know how a Dirty Harry movie will end.
An explosive, smart, funny and furiously entertaining action-packed thrill-ride that is just too much fun to handle. A great action flick that has lots to offer and is great to watch again. It`s not as dark as the other films and know how to enjoy itself.
½
Clint Eastwood returns as Inspector "Dirty" Harry Callahan in the third of five films concerning the exploits of this supremely macho cop. This time around Harry is partnered up (much to his chagrin) with a determined, yet inexperienced female partner named Officer Kate Moore, played by Tyne Daly. Their mission: to stop a radical left wing terrorist organization bent on raising Hell throughout San Francisco, The group is primarily modeled after the Symbionese Liberation Army, with perhaps a dash of the Black Panthers thrown in for good measure. This isn't a bad film, as it has some good lines and humor, some decent action, and a little bit of effort to continue the series's trend of making a police drama with socio-cultural/political subtexts. This time around however, the subtext is pretty lacking, and I blame the script, which comes off as not really uninspired, but mainly just lazy. Also, it doesn't help that the idea of having Harry team up with a woman comes off as more novel, and isn't taken as seriously as it should. This results in some lighthearted moments, which aren't bad on a basic level, but end up coming off as a bit silly. So yeah, the film has some problems, but it's still really enjoyable, fairly rousing, and decent enough. The players do their best with the material they're given, and I've got to give Daly some credit for doing her best to hold her own against such an icon playing an equally iconic character. The series has definitely settled into a nice comfortable groove by this point, but even if it is losing a bit of steam, there's still some decent camera work, a fairly fine musical score, and some good action scenes to keep things moving along nicely.
Chris Weber
Super Reviewer
The Enforcer Quotes
| | |
| --- | --- |
| Harry Callahan: | Captain if your gonna jerk all these people off don't do it with me. |
| Capt. McKay: | That's it Callahan you just got yourself a 60 day suspension. |
| Harry Callahan: | Make it 90. |
| Capt. McKay: | 180, give me your star. |
| Harry Callahan: | There's a seven point depository captain. |
| Capt. McKay: | What did you say? |
| Harry Callahan: | I said stick it in your ass. |