Equinox
(1970)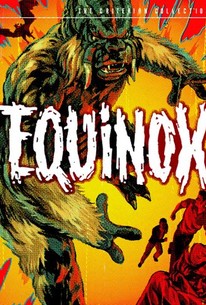 Movie Info
Four teens head into a forest in search of a long-lost scientist (played by science fiction novelist Fritz Leiber). Monitoring the kids' every move is a forest ranger (Jack Woods), who is in reality the ancient demon god Asmodeus. When the kids come across a precious book of incantations, the ranger conjures up an intimidating variety of horrible monsters and nightmarish visions, the better to retrieve the volume. The man responsible for the special effects in Equinox is Dennis Muren, who began the film as a nonprofessional 16-millimeter project in 1967. The picture was completed by director Edward Connell, using the same cast throughout (the actors' ages noticeably fluctuate from scene to scene). Long a Late Late Show staple, Equinox in time garnered a cult following, and later appeared on video under the title The Beast.
Critic Reviews for Equinox
Audience Reviews for Equinox
The premise of "Equinox" (kids in the woods find mysterious, demonic book that summons supernatural monsters) presumably influenced Sam Raimi's "Evil Dead" series, and this no-budget cult movie starts off with the potential to turn legitimately suspenseful and scary. But once the claymation ghouls enter, it's all campy laughs. The male leads are quite a pair: Frank Boers Jr. (who later became Frank Bonner and achieved TV immortality as "WKRP in Cincinnati"'s Herb Tarlek) and a one-time actor named Edward Cornell who sounds like he should be doing voiceovers for insurance commercials instead. They have two disposable blond girlfriends along for the ride, and their prime nemesis is played by Jack Woods, who later built a successful career as a sound editor. Woods also helped direct the film, shooting additional footage after original director Dennis Muren (eventually a special-effects man for the "Star Wars" series and other blockbusters) moved on. Other notable participants include two luminaries from the sci-fi realm: writer Fritz Leiber and historian/collector Forrest Ackerman.
Eric Broome
Super Reviewer
Equinox is far from an amazing piece of celluloid like its cult fans would have you believe, but it's not altogether terrible either. It was cheerleaded by Forrest J. Ackerman since its release and was made in part by some very talented special effects men who would go on to make major blockbuster films like Star Wars. I like the movie a lot because it has stop motion in it... that gets me every time. There's always something magical about it and you know the amount of work that went into creating it that I'm always awed by it, even in movies that aren't that great. Equinox has a terrible cast of characters, a plot full of holes, mostly (if not all) overdubbed dialogue and a head-scratching ending... but it works somehow. Not in an amazingly incredible way, but in an enjoyable one. It's certainly not MST3K material, at least to me, and it contains enough good material to keep me interested. I'm just happy that Criterion put together a DVD release of it so that I could have a chance to see it properly. If you like stop motion and 50s B movies, then check it out.
Tim Salmons
Super Reviewer
½
I can see why this has become a cult hit in later years, the film has an out there kind of plot that is strangely reminiscent of the Evil Dead franchise (Even weirder I just watched "The Evil Dead 2" before "Euinox") but no where near the fun that Raimi delivers with his horror/comedy films. The same claymation is used but obviously even worse here and looks terrible and inaccurate in it's size portrayel of the characters and creations in the film. This has a low cost, barely visible production values and some horrendous "acting" and at times flat out terrible scenes. "Equinox" had some potential but the film can't deliver in any area and ultimately being a cult film is the most it could hope for.
Chris Browning
Super Reviewer
Equinox Quotes
| | |
| --- | --- |
| Asmodeus: | If you knew what was in that book, you'd turn to jelly! It's not meant for worms like you! What did you think you were gonna do with it - sell it to a museum? Why didn't you tell me you... [Jim holds out his mystic symbol] AAH! Damn; heaven! |