Exodus
(1960)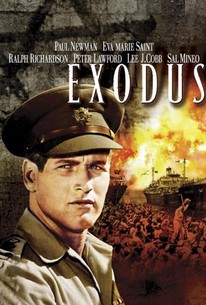 Movie Info
Fictional but fact-based account of the struggle for the emergence of modern Israel as an independent country and home for world Jewry.
Critic Reviews for Exodus
Audience Reviews for Exodus
½
A wonderful epic that boasts one of the most beautiful scores in the history of Cinema, a gorgeous cinematography that makes the best use of its locations, fantastic performances (Sal Mineo is the highlight) and an incredibly well-written script that still feels relevant today in its message in favor of peace.
Carlos Magalhães
Super Reviewer
Starts well with fine performances and a clear and direct plot but loses momentum in second half and becomes somewhat scattered. Ralph Richardson is very good which is customary but when he exits the picture his absence leaves a hole which is never really filled.
In "Exodus," Catherine Fremont(Eva Marie Saint) has been searching for a new purpose in life in the days just after the end of World War II after the death of her husband. She unexpectedly finds one after meeting with a friendly British general(Ralph Richardson) who is in charge of detaining of Jewish refugees in Cyprus, wanting to emigrate to Palestine. And after a less than enlightening conversation with Major Caldwell(Peter Lawford), she agrees to take up her old profession as a nurse in the camps, going so far as wanting to adopt Karen(Jill Haworth), an orphaned teenager. But Ari Ben Canaan(Paul Newman) has other ideas for his people, wanting to force the upcoming vote in the United Nations on partition by forcing the British hand. Written by Dalton Trumbo(thereby officially ending the blacklist) and directed by Otto Preminger, "Exodus" is a contradictary, yet sturdy fictionalized epic account of the founding of Israel that is aided by great location filming. It should therefore come as no surprise that one of the major themes is rebirth. Sadly, this also marks the start of Preminger's prestige period which would be the beginning of his creative downfall when what was needed was more of the spirit from his brass balls period, especially considering how much the subject of terrorism comes up which is sadly still relevant. The one thing that might sound weird about a picture like this is that it is actually a caper film, the first the story of the boat Exodus, while the second is even more daring. Both are figurative chess matches while literal ones play out on screen. And Paul Newman is the right actor in the lead, just the wrong performance. What was needed was something on the order of the roguish leader he would play in later films like "Cool Hand Luke" and "Slapshot." Sadly, there is none of that charisma here to differentiate his character's defiance from that of the British soldier's need to mindlessly follow every order. The characters act as if they are already part of history in a wax museum for the most part.
Exodus Quotes
There are no approved quotes yet for this movie.