Fade to Black
(1980)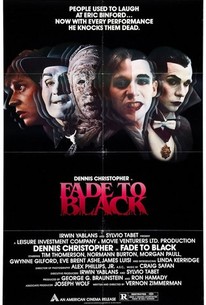 Movie Info
A young social misfit attempts to escape his unsatisfying life by obsessive movie-going, becoming increasingly alienated from the real world. Ultimately, after another rejection from a beautiful girl, he snaps and transforms into a psychotic, film-obsessed killer in this violent thriller.
News & Interviews for Fade to Black
Critic Reviews for Fade to Black
Audience Reviews for Fade to Black
½
A tour de force for a young Dennis Christopher in this easy going thriller. He plays a young man who is obsessed with classic old movies, an obsession that goes into overdrive when he snaps after his life takes a downward spiral. All the folk that wronged or upset him he kills off by transforming himself into famous movie characters from various famous films eg. 'Dracula' 'The Mummy' 'Hopalong Cassidy' and 'Cody Jarret' from the Cagney film 'White Heat'. Along the way is good old Tim Thomerson as a criminal psychologist trying to help 'Binford'. I say easy going thriller as Christopher is a very likable character in this film. His innocent looks and love of classic cinema is really quite fun to watch, the sequences where he transforms into various characters are really good too, charming really. The film isn't scary or horrific in any way, its very tame and almost like an extended episode of 'Quantum Leap' haha. During the film there are the odd inserts from various old black n white films to show or mirror what's going on inside 'Binfords' mind, just like in the comedy 'Dream On'. None of murders actually involve any large amounts of blood or gore, its all done quite tastefully with cut aways and leaving it to your imagination. In fact almost all of the murders are merely accidents that Christopher's character brings on, but his lust for revenge gets the better of him near the end. Great little thriller in a nice 'Murder She Wrote' type of way with some really nice makeup/prosthetics work. Look out for an early role by Mickey Rourke.
Phil Hubbs
Super Reviewer
A sad and disturbing movie, about the humiliation and self-destruction of a young man; his only love was for the movies. It's creepy when he dresses up like many of his movie idols and commits murder. I liked the old-Hollywood flavor of the settings and characters.
Lafe Fredbjornson
Super Reviewer
Fade to Black Quotes
There are no approved quotes yet for this movie.