Fahrenheit 451
(1966)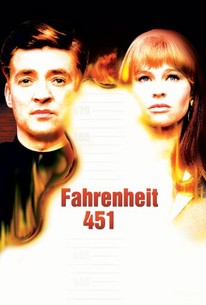 TOMATOMETER
AUDIENCE SCORE
Critic Consensus: Fahrenheit 451 is an intriguing film that suffuses Truffaut's trademark wit and black humor with the intelligence and morality of Ray Bradbury's novel.
Movie Info
Based on the famous book by Ray Bradbury, this film portrays a future society where books and reading are forbidden and "firemen" are charged with the responsibility of setting and maintaining fires at the 451 degrees necessary to burn paper. One of the most adept of these firemen, Montag (Oskar Werner), decides to keep a book for himself, and in doing so, finds himself torn between the desire to adhere to his orders and the urge to defy the controlling government and join the opposing underground society. Directed by Francois Truffaut, this was his first color film, and his first film done in the English-language.
Critic Reviews for Fahrenheit 451
Audience Reviews for Fahrenheit 451
½
Transposed to the screen by Truffaut and with an evoking score by Bernard Herrmann, Bradbury's terrifying vision of a future is a brilliant allegory that remains intelligent and pertinent even today, when books may not be destroyed but are scorned by people.
Carlos Magalhães
Super Reviewer
½
More like a jazz riff on the source material than a note by note translation, Traffaut's version actually adds interesting layers not intended by Bradbury. It's always cool to see how the past imagined the future and this imagination is well layered. For instance all the houses have TV antennas. Its a important feature of Traffaut's vision --- and its wrong technically. Nobody back then saw WIFI coming. On the other hand wall-sized flat screens are a right on the money prediction. On the whole the film is an uneven affair, and Werner's presence is disconcerting, yet as sci-fi it totally works. Its not just about burning books. Its about controlling the masses.
Kevin M. Williams
Super Reviewer
½
I'm coming to love Truffaut, but even my second time through this film - the first time was Grade 10 English class, after the book was assigned - I found it really boring, nowhere near as intriguing as the novel. Full marks for the production design and the source material, but definitely not the director's best work... far from it.
Daniel Perry
Super Reviewer
Fahrenheit 451 Quotes
| | |
| --- | --- |
| TV announcer: | But some boys still boycott the barbershops. Here you see a mop-up squad at work on one of these messy know-it-alls. It all goes to show: law enforcement can be fun! |
| | |
| --- | --- |
| Clarisse: | One more question. |
| Montag: | Another one? |
| Clarisse: | Just a little tiny one. |
| Montag: | What is it? |
| Clarisse: | Do you ever read the books you burn? |
| Montag: | Why should I? First, I'm not interested; second, I've better things to do; and third, it is forbidden. |
| Clarisse: | Of course! Are you happy? |
| Montag: | What? Of course I'm happy… |
| | |
| --- | --- |
| Montag: | To learn how to find, one must first learn how to hide. |