Fandango
(1985)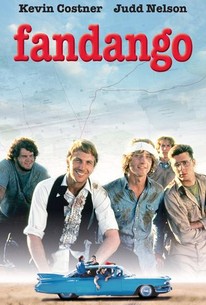 Movie Info
The still unknown Kevin Costner carries this film that involves five college roommates on a last "fandango" before they separately face the harsh realities of an unpredictable future. It is 1971, and the Vietnam War has not yet ended. Gardner Barnes (Costner) has extended his college years by six semesters in an attempt to stave off the rapidly approaching future, Kenneth (Sam Robards) has just canceled his wedding in a drunken look at reality, Lester (Brian Cesak) loves alcohol and tags along with the group just to have a good time, Dorman (Chuck Bush) is devoted to existentialism and flights of poetic fancy, and Phil (Judd Nelson) is barely a member of the group because he is consorting with the enemy: he is a member of ROTC. This unlikely mismatch cavorts through several classic college pranks, among them taking bets on daredevil acts like skydiving into the middle of nowhere. As their high jinks continue, it becomes apparent that their real desire is not to live a wild life for its own sake, but to postpone the moment when they will have to leave school and its lifestyle behind them.
Critic Reviews for Fandango
All Critics (6) | Top Critics (1) | Fresh (3) | Rotten (3) | DVD (1)
You might dismiss the movie as filled with cliches, but cliches have to get started somewhere, and for my money Fandango is that start.
March 9, 2005 | Rating: 4/5
A shining moment for Costner....A Warm, amusing flick
March 4, 2004 | Rating: 4/5
Kevin Costner's Breakout Role, and the Road Trip to end all Road Trips.
Audience Reviews for Fandango
Kevin Reynold's first film is a good effort. The ending seemed crammed trogether way too fast, like the last 10 minutes or so, besides that, it's a 7 star film.
A refreshing coming of age film dealing with college graduates in 1972. This is an ideal movie for a lazy sunday afternoon with Kevin Costner coming off as completely charming and Judd Nelson in one of my personal favorite roles. Nice soundtrack and hilarious scenes evenly balanced with drama concerning the journey to visit their old friend, Dom. Fandango is reminiscent of American Graffiti on a smaller scale but with the same sense of nostalgia and impending lost youth. It's definitely worth renting for a special moment at the beginning of Costner's and Reynolds careers when they were both young unknowns. It's refreshing to be reminded at how subtle and flexible Costner could be then, and at how good a debut the film was for Reynolds.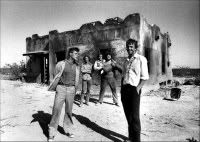 El Hombre Invisible
Super Reviewer
I was amazed at how you this all star cast was, One thing wasn't 1985 a little late to be filming movies about going off to the Vietnam war, I mean we pulled out of there in 1973, so what was the real point of this movie. It was funny, like the sky blue Cadillac with the truck front clip. I watched it because I am checking out all of Suzy Amis Movies and this was her first after he start on Miami Vice Episode 2 or 3 1st Season (She played penny). Anyway she was the girl in this movie and still very pretty. I'd rent it and save the $3.00 its only worth.
Bruce Bruce
Super Reviewer
Fandango Quotes
There are no approved quotes yet for this movie.