Fire and Ice
(1983)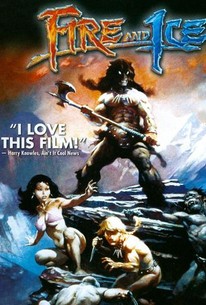 Movie Info
Filmed under the working title Sword and the Sorcery, Fire and Ice is one of the best of Ralph Bakshi's "mainstream" animated features. The story takes place after the destruction of the city of Fire Keep by the unspeakable Ice Lord. Despite the villain's efforts, several Subhumans manage to survive the apocalypse. They kidnap the Ice Lord's daughter Teegra, whereupon the bad guys' Dragonhawks swoop down to wreak all sorts of havoc. Coming to everyone's rescue is the enigmatic hero Darkwolf. The man responsible for most of Fire and Ice's vivid character and background design is the legendary Frank Frazetta, the film's co-producer and co-writer--not to mention the best friend the sword-and-sorcery genre ever had.
Critic Reviews for Fire and Ice
Audience Reviews for Fire and Ice
½
Old-fashioned sword-and-sorcery fantasy in typical Bakshi animation. Visually, that works well for some sequences and rather lousy for others. Either way, the plot fits on a stamp and the characters could have used a little more clothes. In other words: did it neither age well, nor does it have much of a brain or heart.
If you're a fan of sword and sorcery of the ilk Robert E. Howard or Edgar Rice Burroughs might churn up then this it what you've been waiting to see. Frank Frazetta had something to do with it, and so there's plenty of heaving busoms and rippling backsides as well as the standard swordplay that the genre thrives on. This version of that genre might be the absolute best on film period. Nothing else even comes close to capturing the ominous feel of it. Kudos to all involved, especially (surprise!) Gerry Conway and Roy Thomas, co-helming the typewriting duties.
Kevin M. Williams
Super Reviewer
½
Haven't seen this for along time but really enjoyed seeing it again. Another brilliant Bakshi rotoscope animation which looks even better and more fluid than his famous Lord of the Rings film. The plot is basic and the whole thing plays out a little too quickly (1h 18min) but the direct and simple fairytale approach really seems to work well despite being silly. The look of the film is like LOTR in design and colour schemes, its vibrant in places, eerie in others and shows nice clear details throughout. It does feel like there could be much more to see in this world, you just wanna see it expand further with more creatures and adventures. As said the film is kinda limited and short, a sequel would of been just the ticket. Really this could easily be a chapter from the LOTR franchise with names like Fire Keep, Nekron, Darkwolf, Teegra, Larn etc...Bakshi's prior work obviously helped a lot here. His approach has been refined as has the animators skills and techniques. There is also a clear Conan feeling running through this too thanks to writers from Marvel, its pure 80's fantasy to a tee with great graphic novel visuals, a living comic way back before the likes of 'Sin City'. Again like LOTR the voice work is great and really makes the whole thing more than just a cartoon. The rotoscoping is much better and looks more realistic (quite eerie actually), the film is much more adult in style and action, plenty of blood and killing. A pre-runner to modern adaptations if you ask me, not at all for kids, more along the lines of 'The Beastmaster' perhaps. This is great fun and could really be a decent adult fantasy live action film if made correctly, but I stress ADULT only. Teegra must be running around in her skimpy thong and straddling a Pterodactyl if this is gonna work for live action. A real sense of many barbarian fantasy films from back in the day including a taste of He-Man, of course Conan is more evident over everything else. That doesn't detract from this what so ever, as an original creation Bakshi has done an amazing job to bring this together with much quality and style. A true cult classic that is probably Bakshi's finest hour in animation.
Phil Hubbs
Super Reviewer
Fire and Ice Quotes
| | |
| --- | --- |
| Teegra: | Nekron, you're a great power in the world. You have all any man wants or needed, and yet you despeir, for there's one thing you lack, only one gift you can bestow between our people: peace. This is the gift that heals the heart of the giver. Nekron, I extend my hand in friendship, I offer peace between our people.Will you not take my hand? Will you not call me friend? |
| Nekron: | (laughs evily) Woman, I spit on peace! I spit on you! (slaps Teegra, then turns to Juliana) Next time you present me with one of your little sluts, mother dear, I'll squash you like a bug!! |
| Nekron: | [laughs evilly] Woman, I spit on peace! I spit on you! [slaps Teegra, then turns to Juliana] Next time you present me with one of your little sluts, mother dear, I'll squash you like a bug! |
| | |
| --- | --- |
| Nekron: | Pigs you are, and like pigs you will die! |
| | |
| --- | --- |
| Nekron: | Die! Die! Why won't you Die!?! |
| Nekron: | Die! Die! Why won't you Die!? |