Force of Evil
(1948)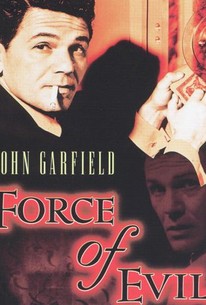 Movie Info
Joe Morse wants to consolidate all the small-time numbers racket operators into a single powerful organization. But, his older brother is one of these small operators, and he wants things to stay the way they are, rather than dealing with the gangsters who dominate the big-time.
News & Interviews for Force of Evil
Critic Reviews for Force of Evil
Audience Reviews for Force of Evil
½
"Force of Evil," starring John Garfield, is a serious and heavy noir depicting corruption in New York in the early days after WWII. It could have been a great film, but it drowns in muddled and overly complex storytelling. I could barely keep track of the characters. The story threads I could keep track of were phenomenal. Also great was the titanic performance from supporting actor Thomas Gomez, who plays the brother of Garfield. I had never heard of Gomez until this, but I see that he was nominated for an Oscar the year before "Force of Evil" came out (for "Ride the Pink Horse," a film I've never heard of). So clearly he was a heavy hitter in his day. It's a shame that his reputation faded over time. Unfortunately, alongside everything that's great in "Force of Evil" is a ton of overly complex storytelling that must have left 98% of the audience in 1948 scratching their heads. No wonder this film garnered no Oscar nominations.
William Dunmyer
Super Reviewer
½
Here it is, 60 years after the release of this cinematic pearl, and I'm just now discovering it. The only thing that beats watching a film noir classic again and again is watching one for the very first time. Thank you John Garfield.
Randy Tippy
Super Reviewer
Plausible facts on this one.Aggressive till it bleeds.I saw this film on a cine-club somewhere in Athens.All 5 of us who attended were shocked at the boldness of that period,no,wait: the undercover "beauty" of it.McCarthy was approaching and if Polonsky was given better chances,he'd do miracles with noir stories like this.The edge of small-time con-men as an alternative title.
Dimitris Springer
Super Reviewer
Force of Evil Quotes
There are no approved quotes yet for this movie.