The Four Feathers
(1939)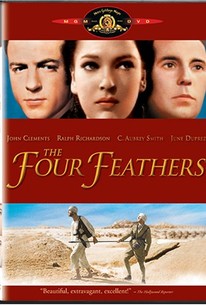 Movie Info
This was the first sound production of A.E.W. Mason's classic adventure novel, which was brought to the screen three times in the silent era. Harry Faversham (John Clements) is the son of a military man who expects his son to follow in his footsteps on the fields of battle. Gen. Burroughs (C. Aubrey Smith), the father of Faversham's sweetheart, Ethne (June Duprez), was also a hero in the Crimean War, and he often regales Harry with tales of his exploits under fire. However, Harry is not so sure he believes in the family's tradition of military service and resigns his commission in 1898, shortly before his company is scheduled to head into the Sudan. Three of Faversham's comrades in arms, Capt. John Durrance (Ralph Richardson), Lt. Peter Burroughs (Donald Gray), and Lt. Arthur Willoughby (Jack Allen), each present Harry with a white feather, symbolizing their belief that he is a coward; Ethne shares their belief, and gives him one as well. Disgusted with himself, Faversham disguises himself as a Sangali tribesman and travels to the Sudan so that he might be able to move behind enemy lines and serve the British forces as a scout and reconnaissance agent. When his former regiment is attacked, Faversham is able to lead Burroughs and Willoughby to safety, with the wounded Durrance not realizing that the Arab who saved his life was in fact the man that he accused of cowardice. The Four Feathers was a great critical and commercial success and received an Academy Award nomination for Best Cinematography.
Critic Reviews for The Four Feathers
Audience Reviews for The Four Feathers
The titular four feathers symbolize cowardous...; what? Okay, now that's just plain bogus, and no, not because we're talking odd symbolism, but because they're going to need a lot more feathers if they're going to make a symbolic chicken. Yeah, I know that sounded cheesy, but hey, it's no worse of a joke than the 2002 version of this film, or at least that's what a couple of critics would say. I, for one, really dug the '02 version, and if I was saying that just because I miss Heath Ledger, then I probably wouldn't find "The Dark Knight" overrated. I dug 2002's "The Four Feathers", but thought "The Dark Knight" was just alright; that should tell you about my credibility. Well, I certainly know enough to tell you a good classic when I see one, and believe me, this is one of them. However, I'm no four feathers-carrying coward; I'm not afraid to tell you that, while I do like the film, it's not without many a misstep. Being a grand piece of source material's epic film adaptation that runs under two hours, tightness to a fault is to be expected, and here, you, well, don't really get that. I was surprised at how comfortable the brief script is, but when it came to the execution of the script, things did stand to be broader. The film jars here and there during some pretty major shifts in character and story, though what keep the film from hitting the most is the shortage of oomph. Now, I understand that it's 1939 and that the quality of an epic by that time was nothing too special, but this was still the year of "Gone with the Wind", and even that followed some pretty effective epics. I'm not saying slap an extra 100 minutes on this bad boy and make it an unrelenting barrage of sweep, nor am I really trying to judge this film on the basis of comparison, but what I'm getting at is that this film doesn't always deliver on the oomph to match its sweep, creating a contradiction that will leave some to momentarily disengage. However, for every lull in the film, there's way more than enough cold strikes to pull you back in. It's certainly no "Gone With the Wind", but this film still stands as a pretty sharp testament to classic epic sweep, brief though, the final product may be. This is one of the first big production films to leave black-and-white, and boy does it leave it gracefully, with color, lighting and sweep that does something that, back then, stood as a truly strong mark of a clever cinematographer. Georges Perinal's manipulation of limitation is not as brilliantly groundbreaking as Gregg Toland's was in "Citizen Kane", but this film summons a form of charm in its simplicity, while still providing a lot of dazzle and sweep, which of course compliments the pretty excellent action. Again, director Zoltan Korda doesn't always deliver on the oomph and tension that could have made the action all the heavier, but the man certainly knew sweep and staging when it came to this film's big battle sequences, which are engaging, lively and fairly effective. There is a degree of adventurous feel in the film, and while Zoltan doesn't deliver on the atmosphere as thoroughly as he should, his performers do... though still not as thoroughly as they should. There's shame, violence, death, entrapment and even blindness that fall upon these poor suckers, and the writers, like most of that era, play up those aspects with an almost embarassing touch of 1930s safety. Say what you will about the 2002 version, it was at least still more hardcore than this film, and not to mention the fact that it starred Wes Bentley and ...sniffle... Heath Ledger, so of course the acting isn't as good as it should be, because it's just so underwritten. However, what the performers are asked to do, from being charismatic to playing up some actual material, they do it with charm and some pretty sharp skill for the time, leaving you compelled by them just as much as you're compelled by the sweeping technical value. Overall, the script is riddled with sweep, even with its unfortunately brief runtime, yet director Zoltan Korda doesn't always deliver on the intrigue nor an organic flow in the storytelling, leaving several moments to become disengaging, but you'd be hard pressed to not quickly be woken back up by the sweeping, dazzling technical value and generally winning performances that ultimately prevail over the missteps and leave Korda's classic take on "The Four Feathers" an entertaining and generally compelling relatively brief epic. 3/5 - Good
Cameron Johnson
Super Reviewer
"The Four Feathers" has been brought to the silver screen several times during both the silent and talkie era. Zoltan Korda captures the desert strikingly similar to "Lawrence of Arabia" and that in and of itself says a lot! The technicolor is gorgeous and the colors, especially the British uniforms, really pop and create a striking contrast to the scenery. While the film clocks in at 115 minutes, this is truly an epic worthy of its commercial and critical success! John Clements gives a realistic and solid performance as Harry Faversham the coward turned hero at the heart of the film. There are so many talented cast and crew and it really shows and qualifies as a beautiful and poetic Classic!
Chris Browning
Super Reviewer
½
The best film version of this story. It's from the Korda brothers so the production is top notch. It's a early color film that is just beautiful. The only problem I have is with the basic story, and this implies all versions. The main character is branded a coward for not wanting to go to war, so in turn he goes through hell to prove he is not a coward. The problem is their are hundreds of easier ways he could make this up to his friends and he chooses the most outlandish and impossible ways to prove himself. Still a good film though.
cody franklin
Super Reviewer
The Four Feathers Quotes
There are no approved quotes yet for this movie.