Framed
(1975)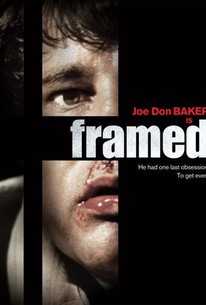 AUDIENCE SCORE
Critic Consensus: No consensus yet.
Movie Info
Director Phil Karlson harks back to the no-nonsense, no-thrills directness of his 1950s "B" pictures in Framed. Joe Don Baker, Karlson's star in Walking Tall, plays Ron, a high-rolling gambler with a streak of integrity. Framed by the film's villains--including a cartel of corrupt cops--Ron is carted off to prison. Upon his release, he embarks upon a carefully calculated campaign of revenge. The film's stylistic ties to the enormously successful Walking Tall include the screenwriting contributions of Mort Briskin.
Critic Reviews for Framed
All Critics (3) | Top Critics (1) | Fresh (1) | Rotten (2)
I suppose movies like this are a living for Baker, but if he wants to put together any kind of career he should choose more carefully.

The final film of unsung B-movie specialist Phil Karlson is a tough-as-nails crime drama that might have attained a better reputation by now if it had the guts to end a few minutes earlier on a bleaker note. Still, a must for fans of gritty '70s fare.
June 15, 2008 | Rating: 7/10
Audience Reviews for Framed
½
Next to the pre-Dirty Harry Don Siegel,and not to mention pre-Wild Bunch director Sam Peckinpah,Phil Karlson was Hollywood's best director of low-budget toughies of classic "B" grade films of the 1950's and 1960's. It wasn't until the early 1970's though this career swan song doesn't offer much support for assertion. It wasn't until 1973,when Karlson made a low-budget action flick about a county sheriff who comes in and dismantled the baddies and bigots in a corrupt sleepy Southern town. The film was called "Walking Tall",and it became not only a vigilante brutal display of one man getting back at the system,but it became a call for something else. The film became one of the top ten highest grossing films of that year and it made a unknown actor by the name of Joe Don Baker into a huge star and it spawned two theatrical sequels(that starred Bo Svenson)not to mention a short-lived TV series under the same title.

After the tremendous and runaway boxoffice success of "Walking Tall",actor Joe Don Baker and director Phil Karlson reteamed again in 1975 for this expose of rampant political corruption and low-down dirtness in a sleepy Southern town,not to mention acts of revenge and envy in corrupt Southern state. "Framed" was just as good as it gets with Joe Don Baker, John Marley,and Brock Peters. Only this time around the graphic violence and strong language is ante up for maximum pleasure.
Mister Caple
Super Reviewer
Framed Quotes
There are no approved quotes yet for this movie.