Frantic
(1988)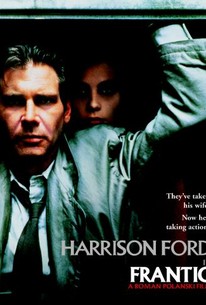 Movie Info
San Francisco doctor Harrison Ford and his wife Betty Buckley journey to Paris, where Ford is to lecture at a major medical conference. The day of their arrival, Betty happens to pick up the wrong suitcase at the airport; the next day, she completely vanishes from sight. Receiving surprisingly little help from the authorities, who assume that the missing Betty is off on a romantic rendezvous, Ford launches his own investigation, only to be sucked into a maelstrom of espionage and international terrorism. Frantic proved positively that director Roman Polanski had not lost his touch during his three-year absence from films.
Critic Reviews for Frantic
Audience Reviews for Frantic
½
Frantic, unfortunately doesn't present the great surrealist style of Polanski, but show a creative and tense plot with surprising moments. Fresh.
Lucas Martins
Super Reviewer
I was expecting an average thriller, but ended up with a bit less here. (Never contented, am I?) Not bad to kill time, though. The actors were fine, but their characters were hardly so. So, unless you're a die-hard Polanski/Ford fan and/or are running out of options, this isn't something to anxiously look forward to.
familiar stranger
Super Reviewer
A doctor's wife disappears in Paris, and using only the clues in a misplaced suitcase and the help of a mysterious woman, he must find her before she is killed or he is arrested. This is a classic noir film directed by one of the genre's masters, Roman Polanski. The young Harrison Ford shows his acting chops in the film's dramatic scenes, and the final sequence is shot remarkably well with angles and camera movement that are reminiscent of classic noirs. I saw a couple homages to Touch of Evil during this climax. I also thought the relationship between Walker and Michelle, played by Emmanuelle Seigner, was well-developed. It's obvious that she captures both Walker's attraction and repulsion. He is simultaneously drawn to her as he reviles her lifestyle and the threat she poses to his marriage. However, the film moves quite slowly throughout. It's not as bad as The American, but it certainly lacks sequences of action, surprise, or intrigue until act three. Even then, the film's action sequences are relatively predictable. I also found it cliche that the kidnappers are identified as Arabs, and their ethnicity seems to be the only motive for their actions. Even in 1988 Arabs are the go-to terrorists. Finally, Walker first clue is a pack of matches in the suitcase, and I found it ham-handedly coincidental that this minor clue leads him on the right track. I recently re-watched A Very Long Engagement, and though these two films are remarkably different in many substantive ways, I liked how the mystery in Jeunet's film had so many dead-ends, which gave the film a far more realistic feel than thrillers like Frantic. Overall, Polanski's film is good, but I recommend it with a few reservations.
Jim Hunter
Super Reviewer
Frantic Quotes
There are no approved quotes yet for this movie.