Fright Night
(1985)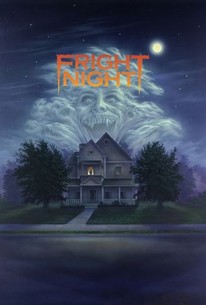 Movie Info
Classic Vampire film about a teenager who learns that his next door neighbor is a vampire, and no one will believe him.
Critic Reviews for Fright Night
Audience Reviews for Fright Night
A brilliant blend of comedy and a special effects horror show. The idea of bringing the Vampire into modern day standards back in the 80s sounded like it would fail miserably, but this film pulled it off, and quite possibly my favorite of all horror movies I've seen. The effects are incredibly well done for the time, and it is quite possibly the most innovative horror movie of its time in the effects department.
Michael Edwards
Super Reviewer
I watched this after I saw the remake and went backwards, so I feel I must compare the two at least a little bit. Chris Sarandon plays a very charming Jerry that is quite different from the remake and I like both versions for their perspective films. Charley and his life are barely even touched upon in this version, they did a much better job of fleshing out his personal life and getting you invested in the character in the remake. This version is more of a B-movie creature feature where they spend more time devoted to transformations and trying to gross you out with the special effects (some of the shots last far too long). It is still fairly entertaining, but I like the script and plot of the remake more. I found it to be lacking in both areas.
Josh Lewis
Super Reviewer
½
Funnier and more amusingly disgusting than actually scary, this decent little vampire horror movie combines fright and humor in a really efficient way, making for a very enjoyable time despite - or maybe also because of - its outdated makeup and looks from the 1980s.
Carlos Magalhães
Super Reviewer
Fright Night Quotes
| | |
| --- | --- |
| Peter Vincent: | Mrs. Brewster. My God, the phone lines have been cut. [Evil Ed arises from under the bed sheets with a wig on] |
| Evil Ed: | I know. [giggling] I DID IT! |
| Peter Vincent: | Where is Charley's mother? |
| Evil Ed: | [removes the wig] Oh, well, she's working nights. BUT!... she left a note. [He chuckles like a speed freak as he removes the note from his pocket. He reads it] Mmmmmm mmm! His dinner... is in the oven! |
| | |
| --- | --- |
| Evil Ed: | Oh, you're so COOL, Brewster! |
| | |
| --- | --- |
| Peter Vincent: | Welcome to this fright night... |
| | |
| --- | --- |
| Amy Peterson: | (after seeing Charley get startled by his window) - Is something wrong? |
| Amy Peterson: | (after seeing Charley get startled by his window) Is something wrong? |
| Charley Brewster: | Nothing. |