From Here to Eternity
(1953)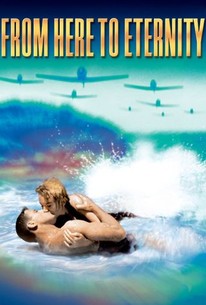 TOMATOMETER
AUDIENCE SCORE
Critic Consensus: It has perhaps aged poorly, but this languidly paced WWII romance remains an iconic, well-acted film, featuring particularly strong performances from Burt Lancaster and Montgomery Clift.
From Here to Eternity Photos
Movie Info
The scene is Schofield Army Barracks in Honolulu, in the languid days before the attack on Pearl Harbor, where James Jones' acclaimed war novel From Here to Eternity brought the aspirations and frustrations of several people sharply into focus. Sergeant Milt Warden (Burt Lancaster) enters into an affair with Karen (Deborah Kerr), the wife of his commanding officer. Private Robert E. Lee "Prew" Prewitt (Montgomery Clift) is a loner who lives by his own code of ethics and communicates better with his bugle than he does with words. Prew's best friend is wisecracking Maggio (Frank Sinatra, in an Oscar-winning performance that revived his flagging career), who has been targeted for persecution by sadistic stockade sergeant Fatso Judson (Ernest Borgnine). Rounding out the principals is Alma Lorene (Donna Reed), a "hostess" at the euphemistically named whorehouse The New Congress Club. All these melodramatic joys and sufferings are swept away by the Japanese attack on the morning of December 7. No words could do justice to the film's most famous scene: the nocturnal romantic rendezvous on the beach, with Burt Lancaster's and Deborah Kerr's bodies intertwining as the waves crash over them. If you're able to take your eyes off the principals for a moment or two, keep an eye out for George Reeves; his supporting role was shaved down when, during previews, audiences yelled "There's Superman!" and began to laugh. From Here to Eternity won eight Academy Awards, including Best Picture, Best Director, Best Adapted Screenplay, and supporting awards to Sinatra and Reed. ~ Hal Erickson, Rovi
News & Interviews for From Here to Eternity
Critic Reviews for From Here to Eternity
Audience Reviews for From Here to Eternity
½
The camera loves Montgomery Clift and his perfect face, and he is exceptional as always along with Lancaster and Sinatra, but while during its first hour it feels like a film that you can watch forever, it soon starts to drag and make all too evident its lack of a well-defined structure.
Carlos Magalhães
Super Reviewer
Set in the weeks leading up to the attack on Pearl Harbor, this is an easy paced (re: leisurely) melodrama focusing on several people at and around the Schofield Army Barracks in Honolulu. It's based on an acclaimed novel (though the film was heavily toned down) and won a ton of Oscars, including Best Picture. It's a fair enough film, although I think it's mostly carried by the performances rather than the story lines, and also the performances probably stand out as better overall than the film as a whole. I wasn't sure I'd like it, what with all you ever seem to hear about it being in reference to the legendary scene where Lancaster and Kerr embrace on a beach as waves crash around them. There's some macho guy type stuff, and that's good, but I could have used more of that, and just an uncompromised adaptation in general. The cast is notable, with appearances from Burt Lancaster, Montgomery Clift, Deborah Kerr, Donna Reed, Frank SInatra (in a great, Oscar winning role), and the wonderful Ernest Borgnine as an antagonist of sorts. They all do a great job, and Sinatra I feel did really deserve his Oscar. All in all, a decent enough film. Zinnemann knew how to tell a great story, and it is shot well, but I don't think it's as good as it's made out to be. Still though, I was entertained, and it is better than the similar stuff that Michael Bay did in his infamous account of Pearl Harbor, so take that as some sort of recommendation.
Chris Weber
Super Reviewer
an oldiie but a goodie a real "classic"~!!! just look at the cast...Burt Lancaster Deborah Kerr Ernest Borgnine Donna Reed Frank Sinatra...wow~!!! The film (and the book before it) tells the story of bored soldiers stationed in Hawaii in the six months or so before the Japanese bomb Pearl Harbor on December 7, 1941. the actors all played there parts well in this one.Its a Romantic Masterpiece and more of a chick flick than a war movie in my opinion.
From Here to Eternity Quotes
There are no approved quotes yet for this movie.