The Fugitive
(1947)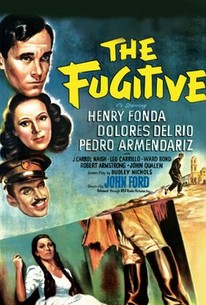 Movie Info
The Fugitive was shot on location in Mexico by that country's premiere cinematographer, Gabriel Figueroa. Henry Fonda plays a Christ-like priest in an unnamed Latin-American country where religion has been outlawed. Though incognito in a backwater village, Fonda cannot help but seem more spiritual and mystical than those around him. Meanwhile, another fugitive, homicidal-bandit Ward Bond, stumbles into the village. Bond and the beautiful Dolores del Rio, whose illegitimate child has been secretly baptized by Fonda, conspire to help the priest escape. Once Fonda is on safe ground, he is implored by police spy J. Carroll Naish to return to the village, ostensibly because Bond is dying and wishes to have last rites. Fonda is captured and sentenced to death, but is willing to forgive the repentant Naish for betraying him. The priest dies a martyr, and the outpouring of public grief proves to the authorities that simply outlawing religion will never subjugate the hearts and minds of the people.
Critic Reviews for The Fugitive
Audience Reviews for The Fugitive
Said to be Ford's favorite, of his own films. while I may not share his sentiment entirely, this is definitely a must for Ford fans. Fonda turns in another dynamite performance and Ford's cinematography is breathtaking as usual.
Ken Stachnik
Super Reviewer
The Fugitive Quotes
There are no approved quotes yet for this movie.