Game of Death
(1978)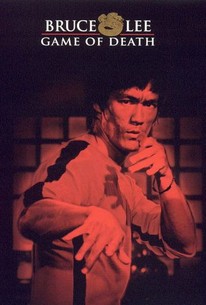 Movie Info
Robert Clouse directs Bruce Lee in what would turn out to be Lee's final film, Game of Death. Lee plays a martial arts movie star who is just beginning to gain some notoriety. His girlfriend is a singer. They are confronted by Dr. Land, who wants to control their careers. Lee must face off against Land's minions in order to maintain his independence.
News & Interviews for Game of Death
Critic Reviews for Game of Death
Audience Reviews for Game of Death
½
This was a hard movie to sit through to be honest because Bruce Lee died before finishing the movie which is a real shame. Even though the film isn't at the usual standard Bruce Lee know for, it's a overall fun mess of a movie. Game of Death is about a martial arts movie star who fakes his death to find the people who are trying to kill him. Well if you're looking for a intriguing story like in Enter the Dragon prepare to be disappointed because the plot is an excuse for doubles to be in it. The story itself isn't half bad, though it's not half good either. At times it's uninteresting and boring, but I have to give points for it actually fitting in footage with the actual Bruce Lee in so naturally. It works overall as we do get some interesting characters, unfortunately the movie villains aren't. Which is a real shame, this is the only Bruce Lee movie where the villains are not interesting at all. Yet despite the story having some ridiculous moments, I enjoyed it for what it was and applaud there effort for at-least trying. Now there only one reason why I saw this, Bruce Lee kicking ass. While you will have sit through most of the movie before seeing footage from the actual Bruce Lee it'll be worth because it's classic Bruce Lee. As for the double, they do a decent job replacing Bruce Lee for the most part. Though at times they do look ridiculous imitating Bruce Lee bringing in some unintentional laughs. The cast for the villains is more memorable than the movie heroes. The actors who portrayed the villains put more energy into there role, though unfortunately there characters aren't memorable due to the way they were written. I'm not done yet, I've this with my dad because we both like Bruce Lee and we both knew that the movie had allot stock footage being used. Though what I find despicable is that my dad notice the funeral footage during the movie and to my shock. It was actual footage of Bruce Lee funeral, this is no way you respect the actor who made Martial Art movies popular in America. Game of Death is a mess of a movie, but it was a mess of movie I enjoyed despite its many flaws. Though its a shame Bruce Lee never got to finish this movie the way he wanted, fortunately it has some of the last footage Bruce Lee ever filmed and to me it's worth watch for that reason alone.
Caesar Mendez
Super Reviewer
'Game of Death' is the equivalent of having your dog swallow a gold ring - you've got to sift through the cr*p to find the polished stuff. Completely different to Bruce's original vision, the 1978 version is hugely controversial. To some, it's a shameless cash-in and insult, to others it's a curiosity. To me personally, it's a guilty pleasure. Obviously, with such limited footage of Bruce Lee to use, the film was always going to suffer. Not only that, but how do you incorporate the footage into a film and give it context? The stand-in's that are used to fill the time leading up to the Lee footage are never going to fool anyone. Even as a kid, I could tell it someone else. The techniques used to have Bruce Lee on screen range from awful (superimposed heads) to tasteless (his real funeral) to fairly good (quick cuts from old footage). The disguises that Billy Lo and Bruce's doubles wear throughout the film are hokey but nothing that we haven't seen in Lee's films before (Fist of Fury), so that didn't bother me too much. Despite some awful dubbing and a poor script, 'Game of Death' is still watchable for it's action. Fight choreographer Sammo Hung makes the non-Lee fight scenes entertaining even if the doubles don't match Bruce Lee's speed or technique. However, they do capture some traits of Lee's fights including the slow motion finishing move. Also, the film's budget allows for a number of locations ensuring that Billy's quest for revenge keeps moving. In this regard, the Hollywood frills that are added give the film a degree of watchability, especially the classy score which appears throughout and heightens the final scenes. But of course, the main point of watching 'Game of Death' is to see Bruce in action. Although criticised for cutting down the "pagoda sequence", I think it still contains enough to satisfy. You have to remember that this original footage included two companions of Lee's who don't feature in the 1978 film, meaning a lot had to be left out. The nunchuk duel is unique while the fight with Kareem Abdul Jabbar is bizarre but thrilling. There are some moments of bad taste, but on the whole the film is a cheesy and quite fun attempt to build up to the final 20 minutes. Whether you think this was a cash-in or a tribute, you still need to see it in order to understand the 'Game of Death' phenomenon.
Cassandra Maples
Super Reviewer
½
Filmed primarily after Lee's death using a stunt double in his place throughout the movie. Most fans, myself included, disregard this film because it is not really Lee, more of a studio trying to cash in on his image. The only scene worth watching is the final fight sequence, which is edited and is in its full state in a documentary, A Warrior's Journey. Its probably best not to watch this movie at all.
Lenny Muggsy
Super Reviewer
Game of Death Quotes
| | |
| --- | --- |
| Fighter: | "You beautiful (he he) bastard!" |
| Fighter: | You beautiful bastard! |
| | |
| --- | --- |
| Billy Lo: | Let it go. What must be done is being done. |
| | |
| --- | --- |
| Billy Lo: | You lose Carl Miller! |