Glory
(1989)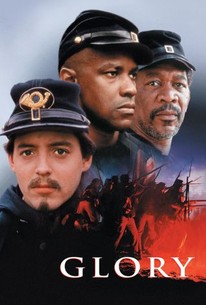 TOMATOMETER
AUDIENCE SCORE
Critic Consensus: Bolstered by exceptional cinematography, powerful storytelling, and an Oscar-winning performance by Denzel Washington, Glory remains one of the finest Civil War movies ever made.
Movie Info
Glory is a celebration of a little-known act of mass courage during the Civil War. Simply put, the heroes involved have been ignored by history due to racism. Those heroes were the all-black members of the 54th Regiment of the Massachusetts Volunteer Infantry, headed by Col. Robert Gould Shaw (Matthew Broderick), the son of an influential abolitionist (played by an uncredited Jane Alexander). Despite the fact that the Civil War is ostensibly being fought on their behalf, the black soldiers are denied virtually every privilege and amenity that is matter of course for their white counterparts; as in armies past and future, they are given the most menial and demeaning of tasks. Still, none of the soldiers quit the regiment when given the chance. The unofficial leaders of the group are gravedigger John Rawlins (Morgan Freeman) and fugitive slave Trip (Denzel Washington), respectively representing the brains and heart of the organization. The 54th acquit themselves valiantly at Fort Wagner, SC, charging a fortification manned by some 1,000 Confederates. Glory was based on Lincoln Kirstein's Lay This Laurel and Peter Burchard's One Gallant Rush; the latter book was founded on the letters of Col. Robert Gould Shaw, the real-life character played by Matthew Broderick. The film won a Best Supporting Actor Oscar for co-star Denzel Washington, and additional statuettes for Best Cinematography (Freddie Francis) and Sound Recording. ~ Hal Erickson, Rovi
Audience Reviews for Glory
Edward Zwick's Glory is a stunning, well acted war drama about the first all black regiment that fought in the civil war. Matthew Broderick heads a great cast of talented actors who all deliver some terrific performances. This is a well paced movie that tells a thrilling story that is a must see for cinema buffs everywhere. Now, I've never really been a fan of Broderick's work, but in Glory he really gives a stunning, immaculate performance that you simply can't ignore. Glory is a powerful picture that succeeds at telling a great story due to the fact that Edward Zwick is a great director, and all his films are wonderful, but Glory is by far one of his finest. War film fans will surely enjoy this different genre film, and it is a film that not only acts as a war picture, but one that holds a powerful message. I really enjoyed the film, and thought that it is a stunning piece of cinema that is worth checking out if you love war films. Broderick shines here, and he has come a long way since playing in Ferris Bueller's Day Off. You can clearly see him maturing as an actor and it is a stunning performance that will erase doubt in what he can accomplish as an actor. Broderick is great here, but other performances that stand out are that of Morgan Freeman and Denzel Washington. All three actors make the film that much more entertaining and with a well written script by screenwriter Kevin Jarre, this is an accomplished picture that also acts as an important history lesson. Edward Zwick is an underrated director, and he deserves more praise in terms of filmmaking as he truly has an eye for making entertaining and memorable films that stand out among others. Glory is a great film that is elevated with a powerful script, flawless acting and directing. If you love war films, you owe it to yourself to check this one out.
½
Another long forgotten epic that really is quite a fantastic film, loosely covering the days of Col Robert Shaw and his command of the 54th Massachusetts Volunteer Infantry around 1862 which consisted of African American soldiers. Upon reading about this film its actually quite impressive how reasonable close the film is to fact, major events are covered within the film such as Shaw and his men refusing pay until they gained equal pay with white troops and even his death seems to be quite accurate, normally these things tend to get a Hollywood make over. I guess the main plus point is the fact the film is based around all the characters and not just Shaw, you care about all the men under his command and get to know many of them well (the main cast), this in turn makes it more emotional as the predictable happens towards the finale. The cast are really on form here too, possibly one of Broderick's best performances despite his marginal acting skills, he still seems too weak and shy to me. Morgan is perfect as the wise older soldier (I think he was born old n wise hehe), Washington makes his first real big film here, maybe a bit too 'in the face' in his performance but the rest is history (no pun intended) and Elwes is solid as the second in command with his classic blonde 'Errol Flynn' type features. I tend to forget this was made way way back in 89 as it looks really spot on with costume, sets, location, stunts, weapons...the works, its all made with the care and attention to detail you would expect in a modern epic. Musical score is probably one of the films biggest factors with a sweeping emotional score combined with choir that really brings home the savage needless death of so many. All in all this is a highly enjoyable historical film that is pretty accurate without stooping to over the top glamorisation (much), looks fantastic and is totally a character driven piece making it completely immersing for the viewer, Broderick even looks like Shaw.
Phil Hubbs
Super Reviewer
I had to watch this movie for a class once, I didn't care for it at all, but if you like military movies you'll like it better than me.
Glory Quotes
| | |
| --- | --- |
| John Rawlins: | [part of the prayer group] Lord, we stand before you this evening, to say thank you! And we thank you, father, for your grace, and your many blessings! Now I run off, leaving all my young'uns and my kinfolk, in bondage. So I'm standing here this evening, Heavenly Father, to ask your blessings on all of us. So that if tomorrow is the great getting-up morning, if that tomorrow we have to meet the Judgement Day, O Heavenly Father, we want you to let our folks know that we died facing the enemy! We want 'em to know that we went down standing up! Amongst those that are fighting against our oppression. We want 'em to know, Heavenly Father, that we died for freedom! We ask these blessings in Jesus' name. Amen! |
| | |
| --- | --- |
| Sgt. Mulcahy: | [berating Private Trip] You half-wit black bastard! Did they truly cut your balls off at birth? I'm gonna work on you, you bastard, until I get you broken. |
| | |
| --- | --- |
| Col. Robert Gould Shaw: | Dear Mother, They learn, learn quickly, faster than white troops it seems to me. They are almost grave and sedate under instruction and they restrain themselves. But the moment they are dismissed from drill every tongue is relaxed and every ivory tooth is visible and you would not know from the sound of it that this is an army camp. They must have learned this from long hours of meaningless, inhuman work oo set them free so quickly. It gives them great energy. And there is no doubt we will leave this state as fine a regiment as any that as marched. As ever, your son, Robert. |
| | |
| --- | --- |
| Col. Robert Gould Shaw: | Good morning gentlemen, I am Colonel Robert Gould Shaw. I am your commanding officer. It is a great pleasure to see you all here today. It is my hope that the same courage, spirit, and honor, which has brought us together, will one day restore this Union. May God bless us all. |