Go West
(1940)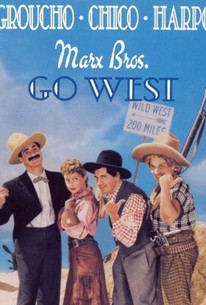 Movie Info
In this Marx Brothers comedy, Joseph Panello (Chico Marx), S. Quentin Quade (Groucho Marx), and Rusty Panello (Harpo Marx) travel to the Old West where they get tangled up in a land acquisition scheme. This film features a number of songs, including "As If I Didn't Know," "Ridin' the Range," and "Oh Susanna."
Critic Reviews for Go West
All Critics (9) | Fresh (8) | Rotten (1)
This late MGM entry to the Marx Brothers opus is one of their minor works but still in parts reflects their vintage lunacy.
The conflict of comedic styles results in a discordant experience at best, but the bits that are pure Marx Bros. are gold.
Really lower rung Marx romp with a few good sequences
October 2, 2002 | Rating: 3/5
Audience Reviews for Go West
½
This movie starts out hilarious, but then it looses steam. The Marx Brothers do a lot of their normal gags, but then they start to do some other ridiculous jokes that are beneath them. Still, this movie is worth watching if you're a big fan of the Marx Brothers, if not don't see it.
½
Same director as At the Circus, Buzzell, but new producer in Jack Cummings who had experience with musicals. Groucho is S. Quentin Quale some sort of business man heading out west in 1870. He has $60 out of the $70 he needs for a stagecoach ticket. Chico and Harpo are the Panello brothers who only have $10 for a stagecoach ticket. Groucho kind of reprises the Tootsie Fruitsie Ice Cream scam, but Chico's and Harpo's money has a string attached. Then without any explanation they are out west. The story of this film is a mess. There is more unsynchronized audio and video, the young couple and villains are unclearly defined, and there are a lot of questions of why and how the characters do what they do in the plot. Carroll and Lewis are from rival old west families. King returns as another villain, Beecher, with Barrat as Red. The big picture is that Beecher and Red are trying to steal a land deed and the Marx Brothers cause mayhem around them. You're not supposed to ask any questions beyond that. A year after Stagecoach (1939), there is a good comic bit that takes place on a stagecoach ride. There is a nice little Gene Autry type musical number while the young couple and the Marx Brothers are on their way to stay on an Indian reservation. But among the Native Americans their comedy is derailed. Harpo turns a weaving loom into a harp, but while the song is sweet, the comic business that provides book ends for his performance is uncomfortably embarrassing. Chico gets a standard piano solo in Red's saloon that is mediocre. And MacCloy as Red's girl Lulubelle sings a snorer of a tune that is interesting only for how deep her voice is. Groucho still dishes out some surprising quips and jabs throughout. Buster Keaton was an uncredited writer, which probably accounts for some of the train chase action and gags. There are a couple worthwhile bits of humor as the boys try to creatively stop the train and then keep it going, but nothing that memorable.
Byron Brubaker
Super Reviewer
½
Hands down the least funny Marx Brothers film
Ken Stachnik
Super Reviewer
Go West Quotes
There are no approved quotes yet for this movie.