The Goodbye Girl
(1977)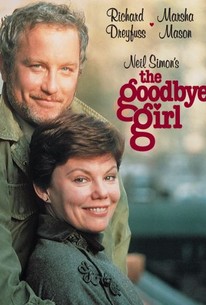 Movie Info
Marsha Mason is known as "The Goodbye Girl" because of all the live-in boyfriends who have said ta-ta to her in the past few years. A former Broadway chorus dancer, the divorced Mason lives in the Manhattan apartment of her latest lost love with her daughter Quinn Cummings. Enter arrogant actor Richard Dreyfuss, who has subleased the apartment from Mason's former boyfriend and moves in bag and baggage in the middle of the night. Dreyfuss and Mason spend the next few weeks getting in each other's way and fighting like cats and dogs. The wind is taken out of Dreyfuss' sails when he opens in a production of Richard III, which has been sabotaged by the director (Paul Benjamin), who insists that Dreyfuss portrays Richard as a hip-swinging homosexual. The play closes after one performance, and the once-overconfident Dreyfuss goes on a self-pitying drunken binge. Touched by his vulnerability, Mason begins falling in love with Dreyfuss despite her lousy track record with men. Richard Dreyfuss became the youngest ever "Best Actor" Oscar winner as a result of his performance.
Critic Reviews for The Goodbye Girl
Audience Reviews for The Goodbye Girl
A woman, Paula (Marsha Mason) & a man, Elliott Garfield (Richard Dreyfuss) are forced to share an apartment after Tony DeForrest, an actor who took care of Paula & her 10 year old daughter Lucy (Quinn Cummings in her first role) left & Elliott was next to sublet the apartment. Elliott acts as Richard lll in an off-off broadway play. Paula & Elliott fight through the duration of the film until they learn to appreciate one & another fall in love. The chemistry between Dreyfuss & Mason is wonderful & Quinn Cummings shines in the role of Mason's daughter Lucy. Another part that is funny is when Dreyfuss is acting as Richard lll :) Richard Dreyfuss's best film :) Everyone needs to see this movie :) It's just ahhhhhmazing! :) :) :) :)
Cassie Hill
Super Reviewer
This is not your average love hate relationship. Dreyfuss deserved his Oscar, and everyone deserves to see this film.
Spencer S.
Super Reviewer
Winning love story, written by Neil Simon, has great chemistry between its leads. Scenes where Dreyfuss is a flamboyant Richard III are side-splitting.
Mark Hobin
Super Reviewer
The Goodbye Girl Quotes
| | |
| --- | --- |
| Elliott Garfield: | I happen to have a lease in my pocket. Are you gonna honor it or what? |
| Paula McFadden: | I have a daughter in my bedroom. That tops the lease in your pocket. |
| | |
| --- | --- |
| Paula McFadden: | What happened to your eye? |
| Elliott Garfield: | I used it to stop a fist from going through my face. |
| | |
| --- | --- |
| Paula McFadden: | You were never four-and-a-half, you were born 26. |
| | |
| --- | --- |
| Elliott Garfield: | [Lamenting yet another bad review of his performance in the play] Channel 5 was honest. Direct and honest: 'Richard the III stunk. And Elliot Garfield was the stinkee.' |
| Elliott Garfield: | [lamenting yet another bad review of his performance in the play] Channel 5 was honest. Direct and honest: 'Richard the III stunk. And Elliot Garfield was the stinkee.' |