The Great Gatsby
(1974)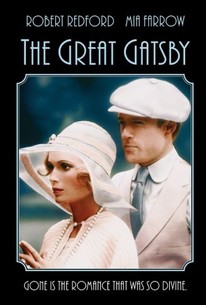 TOMATOMETER
AUDIENCE SCORE
Critic Consensus: The Great Gatsby proves that even a pair of tremendously talented leads aren't always enough to guarantee a successful adaptation of classic literary source material.
Movie Info
In this version of F. Scott Fitzgerald's elegiac novel, Robert Redford stars as self-made millionaire Jake Gatsby, who uses his fortune to buy his way into Long Island society. Most of all, Gatsby wants to win back the love of socialite Daisy Buchanan. The attempt is ultimately doomed to failure.
Critic Reviews for The Great Gatsby
Audience Reviews for The Great Gatsby
½
Faithful adaptation. Can't say I agree with the terrible reviews.
Daniel Perry
Super Reviewer
The Great Gatsby is a standout novel that is brilliantly written with a simple story. This book adaptation captures the feel and tone of F. Scott Fitzgerald's classic work. I did enjoy the new version of The Great Gatsby, but I felt that this one was of course a superior film, a film that boasted some terrific performances and brilliant direction with wonderful storytelling. What makes The Great Gatsby such a great story is that it's a simple plot that is both poignant and dramatic, and these elements combine perfectly to create something quite wonderful. This is a superb picture, a film that is captivating from start to finish, and it's easily a classic. I really enjoyed the book, and it's one of my favorites as well, and with this adaptation, I felt that they managed to keep plenty of elements intact that has made the book so good. There are several great performances, and each actor brings something unique to the screen, which elevate the film significantly. If you've enjoyed the book, then by all means, this adaptation is by far the best take on Fitzgerald's material, and it's a film well worth your time if you've enjoyed the book or if you're looking for a finely crafted drama with some fine performances. Like I said, I did enjoy the current retelling of The Great Gatsby, and I do believe it's a bit underrated; however, this is the film version to watch of F. Scott Fitzgerald's literary classic. Give this film a shot, it's well worth your time, and it's a brilliantly acted and directed film that tells a great story.
Nice adaptation of F. Scott Fitzgerald's work but it's hobbled by very questionable casting. (i.e. Bruce Dern as Tom Buchanan?? Seriously??)
Randy Tippy
Super Reviewer
The Great Gatsby Quotes
| | |
| --- | --- |
| Nick Carraway: | Nick Carraway: There was music from my neighbor's house through those summer nights. In his enchanted gardens, men and girls came and went like moths, among the whispering and the champagne and the stars. I believe that few people were actually invited to these parties. They just went. They got into automobiles that bore them out to Long Island, and somehow they ended up at Gatsby's door. Come for the party with a simplicity of heart that was it's own ticket of admission. |
| Nick Carraway: | There was music from my neighbor's house through those summer nights. In his enchanted gardens, men and girls came and went like moths, among the whispering and the champagne and the stars. I believe that few people were actually invited to these parties. They just went. They got into automobiles that bore them out to Long Island, and somehow they ended up at Gatsby's door. Come for the party with a simplicity of heart that was it's own ticket of admission. |
| | |
| --- | --- |
| Nick Carraway: | "They're a rotten bunch. You're worth the whole lot of them put together!" (In reference to Jay Gatsby) |
| Nick Carraway: | They're a rotten bunch. You're worth the whole lot of them put together! [in reference to Jay Gatsby] |
| | |
| --- | --- |
| Jay Gatsby: | So we beat on, boats against the current, borne back ceaselessly into the past. |
| Nick Carraway: | So we beat on, boats against the current, borne back ceaselessly into the past. |