The Great Race
(1965)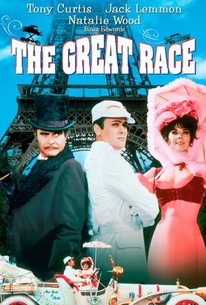 Movie Info
Tony Curtis stars as The Great Leslie, a hero among heroes whose purity of heart is manifested by his spotlessly white wardrobe. Leslie's great rival, played by Jack Lemmon, is Professor Fate, a scowling, mustachioed, top-hatted, black-garbed villain. Long envious of Leslie's record-setting accomplishments with airships and sea craft, Professor Fate schemes to win a 22,000-mile auto race from New York City to Paris by whatever insidious means possible. The problem is that Fate is his own worst enemy: each of his plans to remove Leslie from the running (and from the face of the earth) backfires. Leslie's own cross to bear is suffragette Maggie Dubois (Natalie Wood), who also hopes to win the contest and thus strike a blow for feminism. The race takes all three contestants to the Wild West, the frozen wastes of Alaska, and, in the longest sequence, the mythical European kingdom of Carpania. This last-named country is the setting for a wild Prisoner of Zenda spoof involving Professor Fate and his look-alike, the foppish Carpanian king. When Leslie and Fate approach the finish line at the Eiffel Tower, Leslie deliberately loses to prove his love for Maggie. Professor Fate cannot stand winning under these circumstances, thus he demands that he and Leslie race back to New York. The supporting cast includes Peter Falk as Fate's long-suffering flunkey Max, Keenan Wynn as Leslie's faithful general factotum, Dorothy Provine as a brassy saloon singer, Larry Storch as ill-tempered bandit Texas Jack, and Ross Martin as Baron Von Stuppe. The film also yielded a hit song, Henry Mancini and Johnny Mercer's The Sweetheart Tree. The Great Race was dedicated to "Mr. Laurel and Mr. Hardy".
Critic Reviews for The Great Race
Audience Reviews for The Great Race
The film does drag on somewhat slowly, it makes up for it for one lone reason and one lone reason only, JACK LEMMON AS PROFESSOR FATE!!! He is so damn funny to watch, and I think the comedy on how he acts comes from the Looney Tunes, particularly Daffy Duck, who I am inspired by quite a bit as well, and it really works with the comedy on this character, and is hysterical. The only thing I disliked about this film was Tony Curtis, mainly because how wooden he acts in this film, but I think it was intentional, I think he was trying to just act like that because he is just a stereotypical attractive dude that is just a character with no attitude or emotion., But Jack Lemmon works off of him so hysterically well, and he is someone who you just want to actually see win and not Tony Curtis.
Michael Edwards
Super Reviewer
½
The fun of this tribute (of sorts) to the old silent films is watching the cast simply live it up. Curtis gets to hero it, Wood gets to sexy all American girl it, and Lemmon and the recently deceased Falk get to revel as the very bad guy and his untrustworthy assistant it. Plenty of shining moments by supporting actors in what is without a doubt one deliberately silly film, yes, but fun.
Kevin M. Williams
Super Reviewer
I didn't know it was a kids movie when I started, but I really, really liked it. Why? Because Jack Lemmon is a comic genius and made me crack up more than I was ever expecting. Parallel only to the ever charming Natalie Woods and the oddly suave Tony Curtis. It was a bit long, but the comedy and hijinks were so crazy that I didn't mind it! This is something that if I ever had kids, would have them watch. Loved it. And I would totally watch this again. Oh, and greatest pie fight EVER.
Jennifer D
Super Reviewer
The Great Race Quotes
| | |
| --- | --- |
| The Great Leslie: | Are you a native of Boracho? |
| Lily Olay: | I ain't no native I was born here! |
| Lily Olay: | I ain't no native. I was born here! |
| | |
| --- | --- |
| Max: | Here comes the marines! |
| | |
| --- | --- |
| Maggie DuBois: | Max, you little rat! I'll get you for this! |
| | |
| --- | --- |
| Prof. Fate: | She's his Achilles heel, she's our ace in the hole - she must not be left behind! |