The Green Berets
(1968)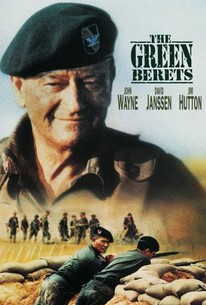 Movie Info
The Green Berets is an exciting war film that was lambasted by critics who at the time of its release opposed the war in Vietnam. Wayne's role is similar to his part in The Longest Day (1963), but it was evident to the worldwide public that the same bravado that flew well in World War II crash-landed in 1968 in the wake of a very different war and political time. Wayne plays the hard-nosed rough-and-ready Colonel Mike Kirby who heads a courageous bunch of tough-as-nails Green Berets determined to capture an important enemy general. They are accompanied by a skeptical reporter who soon becomes a gung-ho red-white-and-blue patriot as the Colonel and the others lecture and show him why they must defeat the "commies." Interestingly, despite the massive anti-war sentiments of the times, the film grossed over $11 million at the box-office and is especially notable for the fine battle scenes. The film also features the hit song "Ballad of the Green Berets," sung by Sgt. Barry Sadler. ~ Dan Pavlides, Rovi
Critic Reviews for The Green Berets
Audience Reviews for The Green Berets
Don't get me wrong, I'm a sucker for John Wayne but this is probably one of his worst films and one that is purely a propaganda piece for the Vietnam War. The film is strictly a propaganda film and reinforces it multiple times with countless jabs at not going to war, a reluctive newsman who is of course won over after going with the Green Berets, and emphasis focused upon each Green Berets death. Taken as an action film, The Green Berets has some decent action sequences but a poorly written screenplay and some overly melodramatic scenes involving a young Vietnamese boy, further pushing the political point home, who afer losing his newly acquired American friend is taken care of by John Wayne's character.
Chris Browning
Super Reviewer
½
Exciting and enjoyable action with the heroes of soldiers of Special Forces that John Wayne stars and co-directed this red-white-and-blue depiction of America's Vietnam effort. It is better than its reputation would suggest.
Dean McKenna
Super Reviewer
½
I'm a huge John Wayne fan but this (IMO) is his worst film. This one plays like a government produced propaganda piece.
Randy Tippy
Super Reviewer