Gulliver's Travels
(1939)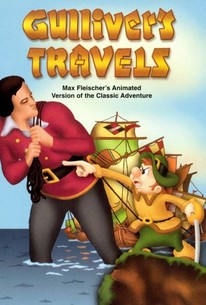 Gulliver's Travels Photos
Movie Info
Impressed by the success of Disney's Snow White and the Seven Dwarfs, Paramount Pictures ordered the studio's resident animation producer Max Fleischer to come up with a feature-length cartoon of his own. Utilizing an expanded staff and new production facilities in Miami, Florida, Fleischer and his brother Dave Fleischer spent six months mulling over story properties before deciding upon Jonathan Swift's Gulliver's Travels; 20 months later, the film was completed and ready for release. Only the first part of Swift's novel, taking place in the miniature lands of Lilliput and Blefuscu, was used in the film, while the original plot, a satire of warfare stemming from an argument over which end of an egg to crack, was jettisoned entirely in favor of a sappy love story with slapstick overtones. Shipwrecked by a storm at sea, normal-sized Lemuel Gulliver washes up on the shore of Lilliput, where the citizens are no larger than Gulliver's thumb. Discovered by excitable town crier Gabby, Gulliver is roped to the ground by the Lilliputians, only to escape with ease upon waking up. While longing to head homeward to England, Gulliver becomes involved in a feud between Lilliput's King Little and Blefuscu's King Bombo. On the eve of the wedding between Little's son Prince David and Bombo's daughter Princess Glory, the two monarchs have a falling out over which national anthem will be played at the ceremony. After a seemingly endless series of misunderstandings and intrigues-many of them perpetrated by Bombo's comic-opera spies Sneak, Snoop and Snitch-Gulliver solves everyone's problems by suggesting that both anthems be played together, resulting in what was supposed to have been the film's hit song "Faithful Forever". Lacking the emotional "pull" of Snow White and the Seven Dwarfs--not to mention the excellence of Disney's animation--Gulliver's Travels must rely upon the slapstick antics of Gabby, the three spies, and carrier pigeon Twinkletoes to keep the audience awake (all of these characters would be spun off into cartoon series of their own). The songs, like the film itself, are nothing special, though Paramount managed to get a lot of mileage out of "All's Well" and "It's a Hap-Hap-Happy Day". Singers Sam Parker, Lanny Ross and Jessica Dragonette are heard as Gulliver, David and Glory, while such Fleischer "regulars" as Jack Mercer and Pinto Colvig play the comic roles. Its many flaws aside, Gulliver's Travels was reasonably successful at the box office, though one wonders if it wouldn't have been an even bigger hit had the Fleischers followed through with their original plan to cast Popeye the Sailor in the role of Gulliver. ~ Hal Erickson, Rovi
Critic Reviews for Gulliver's Travels
Audience Reviews for Gulliver's Travels
It is everything you would expect from a heroic story. A man named Gulliver is stormed onto new land, where he meets a valley of small Gnome-like people who are in every way, afraid of him. After being passed out for half of the film, he awakes and declares himself to be on their side. This is a nice little story that is definitely worth telling, and the lessons learned are great for kids of all ages. The cartoon work is incredibly drawn and the characters are just as great. "Gulliver's Travels" is not just a great kids film, but it can touch the hearts of adults as well. It's great!
½
One of the most treasured animated movies of my childhood. I remember my father bought this movie on vhs for me and my sisters and we watched it so many times. The animation is fantastic considering that it was made all the way back in 1939, and I still remember and treasure the characters (especially the ones from Lilleput). This is truly a classic that I will always remember.
Naughtia Nahazhina
Super Reviewer
½
I guess I can appreciate it for the time it was made, but it wasn't my cup o' tea and I wouldn't watch it again.
Sarah Prisbylla
Super Reviewer
Gulliver's Travels Quotes
There are no approved quotes yet for this movie.