Hamlet
(1948)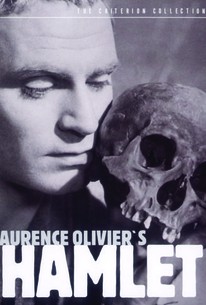 TOMATOMETER
AUDIENCE SCORE
Critic Consensus: A well-executed labor of love from star and director Laurence Olivier, Hamlet not only proved that Shakespeare could be successfully adapted to the big screen, it paved the way for further cinematic interpretations.
Movie Info
Although criticized by Shakespeare devotees upon its release because of director, producer, and star Laurence Olivier's decision to excise large portions of the text, his cinematic version of Hamlet is widely considered the best out of several dozens (and counting). Hamlet (Olivier) is a medieval Danish prince who's still melancholy over the sudden death of his father and the quick, subsequent remarriage of his mother, Queen Gertrude (Eileen Herlie) to his uncle, Claudius (Basil Sydney). Informed by the ghost of his father that Claudius murdered him, Hamlet schemes to take revenge. Unsure how best to proceed, his delays and the horrible secret burdening him eventually lead to the violent snuffing out of several lives in both his family and that of courtier Polonius (Felix Aylmer), whose daughter Ophelia (Jean Simmons) is in love with Hamlet. Greatly influenced by the inventive camera work in Citizen Kane (1941) and by modern, psychological reinterpretations of Shakespeare's play, Olivier's masterpiece was the winner of four Academy Awards, for Best Picture, Best Actor (Olivier), Best Black and White Art Direction/Set Direction and Best Black and White Costume Design.
Critic Reviews for Hamlet
Audience Reviews for Hamlet
½
I didn't particularly like this adaptation mainly because of Laurence Olivier's acting. In my perspective, he delivers his lines without emotion and at times seems bored with what he is saying. In several scenes, the music seems to be intruding rather than adding drama to the film. Or maybe it was the angles of the cameras. Either way, I did not *feel it* when Olivier delivered the soliloquies. I also disliked the actress who played Ophelia. Her acting was not convincing at all. I suppose it has its merits as it is a mostly faithful rendition of the play but I think there's better versions out there (i.e. Branagh's version).
Some consider this to be the definitive screen version of Hamelt, and, while I don't agree with that (and also don't think it should have necessarily taken top honors at the Oscars), I do think this is a very enjoyable and well done take on the story. Olivier might have been a bit too old to play the lead, and the woman playing his mother was actually quite younger than him, and there is a fair amount of the story that has been removed, but aside from all that, there's a lot to like here. Much of the film is still framed and staged as if it were a play, but this gives everything a unique look to it. There's also some great gothic and somewhat film-noirishness to the art direction and set design- namely the cavernous chambers of the castle. The film als ohas a wonderful mood and atmosphere going for it, which really enhance this version's focus on the psychological side of the story. The acting is quite strong, as one might expect given Olivier's reputation, but he's not the only one who excels here. In fact, most if not all of the players do a terrific job. I actually prefer the Branagh version, as epic an undertaken it is to watch, mostly I think, because it was just more ambitious, even if it tweaked the time period. This is still a really good version though, even if I didn't feel it lived up to its reputation.
Chris Weber
Super Reviewer
½
The definitive cinematic rendition of Hamlet. However, Kenneth Branagh's film version of the complete Hamlet does bring out the faults of the Olivier Hamlet by including everything that Olivier had omitted. But still despite all this, the performances, the photography, the art direction and the musical score of the Olivier Hamlet are perfect. I still consider Olivier's performance to be the best performance of Hamlet I have ever seen. Winner of my Top Shakespeare Films.
Jeremy Smith
Super Reviewer
Hamlet Quotes
There are no approved quotes yet for this movie.