Hard Times
(1975)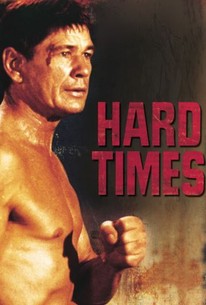 Movie Info
A street-fighter looking for a better way of life takes a chance. Charles Bronson stars as Chaney, a Depression-era bare-knuckles fighter who teams up with a slick promoter named Speed (James Coburn) to make it in the big-time world of New Orleans prize-fighting.
Critic Reviews for Hard Times
Audience Reviews for Hard Times
½
Riding on the coattails of the popularity of The Sting and Bonnie and Clyde before it, Walter Hill's Depression era tale, while Hollywood's picturesque version of the times (even the dirt is cleaner), and often with the puppeteer's strings very much in evidence, it still charms through the work of the familiar experienced cast that sells the by now cliche story of the iconic mysterious stranger coming to town to change everything. And Strother Martin!
Kevin M. Williams
Super Reviewer
Charles Bronson, for me is one of Hollywood's classic bad ass actors. Along with greats like Clint Eastwood, Steve McQueen, Lee Marvin and Henry Fonda to name a few, he has carved a niche in cinemas one of the finest tough guy actors ever. By the time he made this movie, Bronson had already assembled an impressive repertoire of films to his name. Film such as The Dirty Dozen, The Mechanic and Death Wish made him one of the best actors. Where does his role as bare knuckle boxer fit in? This is a compelling and well acted movie that relies on a great cast to tell its story. Bronson plays Chaney, the bare knuckle boxer who is hired by Spencer "Speed" Weed, brilliantly played by James Coburn. This is a well crafted film by Alien Screenwriter Walter Hill, who makes film in the director's chair. Bronson fans will certainly enjoy this change of pace, as he has mostly starred in action films. Hard Times is more of a drama. I thought that Bronson brought a unique charm to Cheney, who happens to be a drifter with great fighting skill. The fight scenes are great and well executed, and the cast do a fine job in their performances. Walter Hill is a great director, and he most certainly crafts a great first film with this one. If you love period pieces, then check this one out. With a great cast, and wonderful story, Hard Times is sure to be an entertaining picture that is worth your time. Hard Times delivers something different for fans of Charles Bronson, and if you enjoy a good drama with an engaging story, then this film is a must see. Walter Hill is a director that can create something raw, gritty and in your face, and that is how I would describe this power house movie. Hard Times is one of the best films starring Charles Bronson, and even with the fact that he has made several classics before this, Hard Times is one of of his most defining works in terms of acting and skill.
Charles Bronson plays Chaney, a drifter who chances upon small time bare knuckle boxing manager James Coburn and they form a partnership to make some money in depression era New Orleans. A great sense of period in a similar vein to Bonnie And Clyde permeates this compelling streetfighting drama, directed with the usual no-nonsense approach of boy's own favourite and Peckinpah protege Walter Hill. To be sure, it's a veritable testosterone fest, but it's by no means your typical Van Damme style action nonsense. Bronson has never been better as the laconic fighter who sees his bouts as pure business; there's no malice in him and there's a total absence of the kind of glorification of violence you see in most boxing films. In this way it has far more in common with the likes of Raging Bull or On The Waterfront. Coburn is also excellent as the smart mouthed hustler he befriends and Jill Ireland's unsentimental love interest has never made the down at heel seem more glamorous. A simple but effective story that highlights Bronson's consummate badassery without the usual trashiness that accompanies most male-orientated tough guy films and easily one of Hill's best moments.
Hard Times Quotes
There are no approved quotes yet for this movie.