The Haunting
(1963)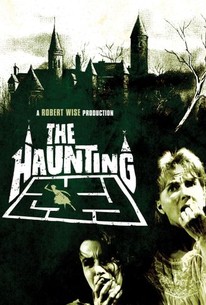 Movie Info
Anthropology professor Richard Johnson investigates reports of psychic phenomena at a "troubled" New England mansion known as Hill House. He is joined by Julie Harris and Claire Bloom, women of radically different temperaments who share a common gift for ESP. Cynical Russ Tamblyn, who stands to inherit Hill House, goes along with the paranormal investigators, hoping to get a few laughs. He doesn't -- nor does Harris, the person most adversely affected by the various ghoulies, ghosties and things that go bump in the night which reside throughout Hill House. Both Julie Harris and Claire Bloom insist to this day that they experienced genuine ghostly disturbances during the filming of The Haunting. Conversely, director Robert Wise noted that he wanted to undergo a paranormal experience, but never did.
News & Interviews for The Haunting
Critic Reviews for The Haunting
Audience Reviews for The Haunting
One of the best ever and perhaps the template for the haunted house genre. A scientist wants a team of "experts" to verify if a celebrated haunted house is the real deal or what. Robert Wise gets his scares with sound and weird camera angles, shadows and music. There's no buckets of red corn syrup, no chopping of body parts, no unkillable killing machine with a fetish for William Shatner facemasks, only the hint of something out of reach in the dark. And it has stood the test of time. Richard Johnson's English scientist whispering his lines does some considerable spooky damage as well. Julie Harris' voiceover is only a tad annoying, but bearable in the overall scheme of things.
Kevin M. Williams
Super Reviewer
½
Julie Harris' narration gets a little excessive at times but otherwise, great classic horror film that sports a great brooding atmosphere, mesmerizing cinematography, and a great ensemble cast.
Christopher Heim
Super Reviewer
A sophisticated Gothic tale that doesn't show us anything that would actually frighten us to death but still manages to create an eerie sense of dread as it probes into the psychological and emotional unbalance faced by its protagonist and blurs the line between reality and illusion.
Carlos Magalhães
Super Reviewer
The Haunting Quotes
| | |
| --- | --- |
| Dr. John Markway: | That proves it: one of you is a witch! |
| | |
| --- | --- |
| Eleanor Vance: | Hill House has stood for ninety years and will probably stand for ninety more. And we who walk at Hill House, walk alone. |
| | |
| --- | --- |
| Dr. John Markway: | You're liable to have that shut door ripped right off it's hinges |
| Dr. John Markway: | You're liable to have that shut door ripped right off it's hinges. |
| | |
| --- | --- |
| Eleanor Vance: | And whatever walks there walks alone |
| Eleanor Vance: | And whatever walks there walks alone. |