Hawaii
(1966)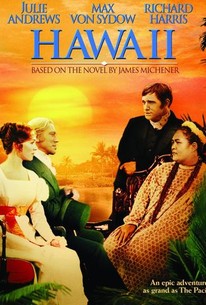 Movie Info
Hawaii hadn't even begun filming when director Fred Zinnemann was replaced by George Roy Hill; similarly, the role intended for Charlton Heston ended up being played by Richard Harris (though Heston would eventually star in the 1970 sequel, The Hawaiians). Based on James A. Michener's best-selling novel, the time frame of which was spread out over several centuries, the film concentrates only on the years 1820 to 1841. Still, Michener's basic point, that the virginal sanctity of the Hawaiian islands was forever shattered by the incursion of the white man, remains intact. Max Von Sydow stars as Abner Hale, an imperious minister who settles in Hawaii with his wife, Jerusha Bromley Hale (Julie Andrews). While Abner expects the islanders to adapt to him rather than the other way around, Jerusha goes out of her way to understand and appreciate her new neighbors. She eventually seeks comfort in the arms of her former lover Rafer Hoxworth (Richard Harris). Despite the lush location footage and such spectacular highlights as pagan ceremonies and an outsized typhoon, the scene most filmgoers remember is Julie Andrews' agonizingly convincing childbirth sequence. All told, it took seven years to translate Hawaii from script to screen -- and almost that long to make back its 15-million-dollar cost. In the early scenes of Hawaii (the 171-minute version, rather than the 151-minute reissue), Bette Midler plays a bit part as a ship passenger.
Critic Reviews for Hawaii
Audience Reviews for Hawaii
½
Apparently, a historical work presented through an entertainment format, this is not exactly to everyone's taste, concerning a young couple (Max von Sydow & Julie Andrews, both excellent) sent to indoctrinate the native islanders to the joys of Christ. Or so it would seem. Actually they are the unknowing vanguard of out and out colonization. Shown with an even hand and avoiding moralizing, it is an exceptional dramatization and, to my mind, not to be missed. If it is disturbing, then it has performed a mighty function. My favorite of director George Roy Hill.
Kevin M. Williams
Super Reviewer
½
Turgid, overlong epic has beautiful location scenery and a story with possibilities- organized religion's arrogant assumption that what it believes is right even if it destroys a civilization is right. While it conveys that in many ways something is ultimely missing from the overall film that keeps it from being involving keeping the viewer at a distance. Von Sydow is a fine actor but his Reverend Hale is such a pompous, small minded autocrat that spending over 2 1/2 hours with him is a trial. Julie Andrews is wasted although she does have one good scene near the end.
½
Interesting to see the effects of over zealous Christians.
Anthony Valletta
Super Reviewer
Hawaii Quotes
There are no approved quotes yet for this movie.