Heidi
(1937)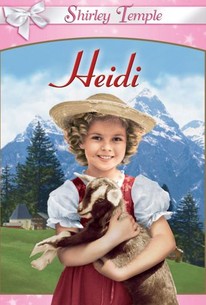 Movie Info
Johanna Spyri's perennial children's favorite Heidi was retailored to the talents of Shirley Temple, resulting in one of her best vehicles. Orphaned early in the proceeding, Heidi is left in the care of her bitter, misanthropic grandfather Adolph Kramer (Jean Hersholt). It doesn't take long before the sweet little child has melted grandpa's hardened heart, and the two "outcasts" become inseparable. But things take a sinister turn when Heidi's cruel and avaricious aunt (Mady Christians) kidnaps the girl and sells her into servitude in the home of wealthy Segemann (Sidney Blackmer). Making the best of the situation, Heidi befriends Segemann's invalid daughter Klara (Marcia Mae Jones), encouraging the girl to walk unassisted for the first time in years. The grateful Segeman promises to reunite Heidi with her grandfather, but Jones's wicked governess Fraulein Rottenmeier (Mary Nash) contrives to keep the girl and her grandpa separated once more -- until the very, very last moment! Perhaps feeling that the Alpine setting of Heidi did not allow Shirley Temple full scope for her musical talents, the screenwriters contrived to include a dream sequence, wherein Heidi imagines herself to be in Holland and clogs to the tune of "In My Little Wooden Shoes."
Audience Reviews for Heidi
½
There aren't many classic films that are very appropriate for children as well as adults, and this is considered one of the more happy and family friendly choices in film history. Of course it significantly helps that the lead is Shirley Temple, the most adorable springy haired child in the history of cinema. Feeling as happy go lucky as a Frank Capra film, "Heidi" is one of the more popular adaptations of the book, and has the same kind of plot that made "The Little Princess" immensely popular. Both star Temple, both have the lead character kidnapped and trapped under the watchful eye of a wealthy benefactress, and eventually they find their loved ones and go back to them. Besides being about the troubles that a small Swiss mountain girl gets herself into, it is also about her cheerfulness eventually warming the heart of her curmudgeon grandfather. Temple and Hersholt's performances are really quite heartwarming, as they find each other after having such hard and intolerable misfortunes, and fight to stay together even when Heidi is eventually kidnapped by her aunt and sold to a widower and his crippled daughter. Of course, what makes this film a bit saccharine with its sweetness is the intolerable cuteness that Temple exaggerates at every turn. She isn't exactly off-putting with her schmaltzy adorableness, but between the dimples and cutesy voice it becomes difficult to imagine that the film is set in the Swiss Alps and not on a Californian soundstage. Still, it's not common to watch films that are made to be watched by children and for children and yet see an intelligence and happy energy to it. "Heidi" may be a tad flawed compared to its literary counterpart, but it's oh so entertaining.
Spencer S.
Super Reviewer
½
My first Shirley Temple film, and very likely my last. I cannot for the life of me figure out the appeal of Shirley Temple. I find her cloying and irritating, and unlike many, I don't think she sings or dances very well. But since "Heidi" was one of my favorite books as a child, I thought I'd give it a chance . I loved the book because of the imagery it put in my head -- of the old grandfather, the mountains, the cabin, and Heidi's friendship with Peter the Goatherd. This film only barely touched on those things, and only concentrated on Shirley/Heidi's sickenly-perky, curly-headed form. Watched about 1/2 of it and couldn't take anymore. Maybe this isn't one of her better vehicles, but I remain unimpressed with Miss Temple and her "talents."
Heidi is The Pride of Switzerland.
Heidi Quotes
There are no approved quotes yet for this movie.