The Hit
(1984)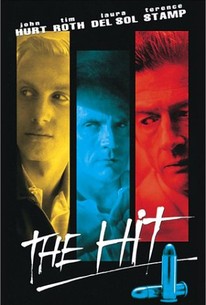 Movie Info
In this offbeat crime film, Willie Parker (Terence Stamp) an English mobster turned informant, has been given a new identity and has been living in a small, isolated village in Spain for 10 years. Unfortunately for Parker, the men he has betrayed have ascertained his whereabouts and send Braddock (John Hurt), a professional hitman, and his apprentice Myron (Tim Roth) to bring Parker to Paris where his ex-associates await. After kidnapping Parker, nothing goes as planned. Now they are followed by a Spanish policeman (Fernando Rey) who seems to anticipate each of their moves, and they are burdened by Maggie (Laura del Sol), the mistress of a fellow mobster they were forced to kill. What should have been a routine hit becomes a psychological battle between all the participants as Parker, in a fight for time and for his life, plays one against the other. Set against the bleak Spanish landscape and featuring evocative and memorable theme music, the film builds to a surprising conclusion where the true nature of all the characters is revealed. Terence Stamp develops the character of Parker in a subtle but surprisingly comic performance and Laura del Sol shines as a woman who will do what is necessary to survive. Tim Roth, in his film debut, plays a brutal, but oddly endearing thug. But it is John Hurt, in a sensitive and nuanced performance, who brings a perceptive intelligence and depth to his role which adds a philosophical and psychological dimension to the film. Hurt plays his difficult role without a misstep and with a rare economy of action. Thoughtful and frequently amusing, The Hit, superbly written by Peter Prince, is both a compelling and suspenseful crime drama and also a deep and profound meditation on life, death and courage.
News & Interviews for The Hit
Critic Reviews for The Hit
Audience Reviews for The Hit
Antagonizing conceptions of life and death among criminals. An stylish and multi-layered examination of that moment of truth, of coming to terms with the vague but terrifying notion of parting this world. Fantastic performances by the leading triad. Probably Frears' best and most underrated cinematic venture.
Pierluigi Puccini
Super Reviewer
Pretty good little film. A sparse script and an amazing Terence Stamp performance kept my eyes peeled to this slow-moving snail of a film. I can't say that I didn't enjoy every bit of it though. The way Stamp works everyone in a little chess game is reason enough to see it, but Fernando Rey was completely invisible in this film!
matt sigur
Super Reviewer
½
It's a hit ! A little gem of a picure this one. Great casting, great performances and strong and complex characters give this fairly low budget movie a punch that hits (groan) above its weight and keeps the viewer thoroughly involved from start to finish.
The Shrewlord
Super Reviewer
The Hit Quotes
There are no approved quotes yet for this movie.