Hobson's Choice
(1953)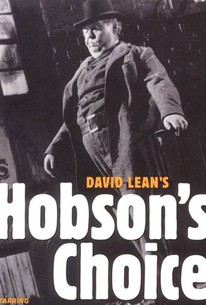 Movie Info
A "Hobson's Choice," as any slang expert will tell you, is no choice at all. In this 1953 filmization of Harold Brighouse's 1915 play Hobson's Choice, hero John Mills finds after several reels of evidence to the contrary that he does have a choice over how he'll conduct his life after all. Mills is the assistant to domineering boot-shop owner Charles Laughton, who lords it over his employees and three daughters by day, then tumbles through the streets on many a drunken evening. Laughton's "old-maid" daughter Brenda DeBanzie breaks free of her father's tyranny, marries Mills, and together with her new husband sets up a rival boot shop when Laughton refuses her a dowry. Father rants and raves, but finally agrees to a merger with his daughter that will assure Mills a large measure of freedom over managing things. The winner of the British Film Institute "Best Film" award of 1954, Hobson's Choice chalked up another international success for director David Lean. ~ Hal Erickson, Rovi
Critic Reviews for Hobson's Choice
Audience Reviews for Hobson's Choice
Although it pretends to be about shop owner Laughton and his difficulties with his trio of daughters, David Lean's intimate little comedy is really about one daughter's triumphant break for freedom from the shackles of a drunken male patriarchy and her taking a simple shop's assistant with her. It's the humanity in this that counts and the actors are wonderful conveying just that.
Kevin M. Williams
Super Reviewer
½
I usually associate David Lean with sweeping epics, so I was pleasantly surprised by this light comedy. Charles Laughton plays Hobson, the blustery owner of a bootmaking shop in 1890s London and father of 3 daughters. The oldest (Brenda de Banzie), not married at the ripe old age of 30 and in danger of becoming an "old maid", pursues and marries (out of spite) the best bootmaker in her father's shop. This of course infuriates her father, who had decided she shouldn't marry and should dedicate her life to caring for him and the bootshop, puts his foot down in efforts to stop her. But fortunately the daughter is as stubborn as he is, and gets her way. Laughton does comedy better than I expected he would, and John Mills as good as well as the unwitting bridegroom. A little side treat was to catch Prunella Scales (of Faulty Towers fame) as a teenager playing Hobson's youngest daughter.
Hobson's Choice Quotes
There are no approved quotes yet for this movie.