The Hound of the Baskervilles
(1939)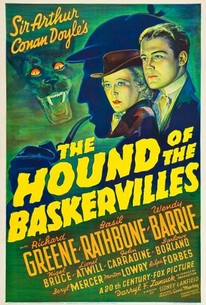 The Hound of the Baskervilles Photos
Movie Info
Though it takes a few liberties with the Arthur Conan Doyle original, this film ranks as one of the best screen versions of this oft-told tale. After learning the history of the Baskerville curse, Sherlock Holmes decides to protect heir Henry Baskerville from suffering the same fate as his ancestors.
Critic Reviews for The Hound of the Baskervilles
Audience Reviews for The Hound of the Baskervilles
Those were the days. When a film franchise could churn out 14 movies in just 7 years. I'm not one for quality over quantity, but with the talent on show here you can easily appreciate the fine workmanship. Hound of the Baskervilles sees Rathbone and Bruce as Holmes and Watson. What I really like about this movie, is that it doesn't bog us down with origins. It assumes we know these characters, which of course, we all do. This allows for a well paced 80 minutes, and a story that kicks off straight away. Holmes is asked to help protect a young man who is coming to inherit Baskerville manor. It's situated on the moors, which are beautifully recreated here. Each rock seems to tell its own horror story. The fog that continuously sweeps over the moors is dark and ominous. Lanfield allows visuals to create the suspense instead of intrusive musical cues. Two scenes stood out for me, when a gun is pointed from a carriage, and as Watson watched his door slowly open. These days, each of these would be laced with faster cuts and loud screeching violins. No such misfortune here. The performances are also strong. Rathbone is more of a supporting character here, which actually works. It emphasises Holmes attempts at being overlooked, He is more of a background detective that still pulls the strings. Bruce is a wonderful Watson, that comes off as Holmes' equal, even if he doesn't have quite the logistical thinking of Holmes. They are supported why a wonderful cast, that do their best to make themselves both suspicious and innocent. Each one seems to have a specific secret, but until the last moments we are unaware of any real motive. The final moments are most exciting, with some exceptional dog training making for a really tense fight. When such an old film even has great make-up, it's clear that we have a real gem on our hands. A classic story told with restraint and style.
Luke Baldock
Super Reviewer
If I'd have seen this adaptation of Sir Arthur Conan Doyle's signature (or perhaps most famous) tale of the world's second greatest detective before seeing Hammer's adaptation with Peter Cushing and Christopher Lee I think I would've liked it a lot more. Don't get me wrong, this version isn't bad. It's got a lot of the fun interaction between Basil Rathbone and Nigel Bruce that Sherlock Holmes and Dr. Watson requires. The set design (namely the moors) was also superb. I just happened to like how the Hammer version was more creepy and ominous. That version also kept me on my toes because I was expecting (as always) for Christopher Lee to be bad news. But then again when watching that version, I had zero familiarity with the story. This one's not bad and worth the watch even if the ending is absolutely abrupt.
Michael Gildea
Super Reviewer
Basil Rathbone is easily the best of the big screen Holmes's and this is his best outing. Nigel Bruce's bumbling Dr. Watson seems positively antiquated in this day and age, but it remained the best adaptation of Conan Doyle's great detective til Jeremy Brett's TV interpretation in the 80s.
The Hound of the Baskervilles Quotes
There are no approved quotes yet for this movie.