House (Ding Dong, You're Dead)
(1986)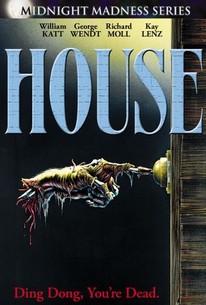 House (Ding Dong, You're Dead) Photos
Movie Info
This is supposedly a horror movie and, when you listen to the story line, it sounds like it would be quite depressing. Actually, though, it is more of a intelligent thriller which was eventually followed by sequels. When a novelist moves into his aunt's house after she commits suicide, he finds that the monsters he creates for his horror novels don't necessarily stay on the pages of his novel. When he writes about his Vietnam experiences, for example, he is forced to relive the tragedies. But there are more gruesome things coming to life than just his memories. Interesting concept with lots of humor thrown in to lighten up the sometimes down aspects in the story.
News & Interviews for House (Ding Dong, You're Dead)
Critic Reviews for House (Ding Dong, You're Dead)
Audience Reviews for House (Ding Dong, You're Dead)
½
A delicious combination of horror and goofy comedy that is amusing and funny (the rogue hand and the raccoon scene are particularly hilarious), and it works quite well even if its attempt to show the traumatizing effects of the Vietnam War on veterans falls flat.
Carlos Magalhães
Super Reviewer
½
Judging by the quite gruesome movie poster would you think this film was scary, its not. That was the problem with many old 80's 'video nasties', there box art was much scarier and intimidating than the actual film. Anyway this franchise is classic 80's stuff with the kind of now cheesy rubber masked effects you come to expect and have seen in various other similar films. Again the idea does seem to stem from 'The Twilight Zone' or 'Tales from the Darkside' or even 'Tales from the Crypt'. Not an anthology of shorts but the plot behind the film could well be seen as an extended short from any of those films. The whole concept is the legendary haunted house idea which does work well if done correctly. In this film William Katt must fight the spirit and zombiefied remains of his former comrade who he unintentionally left to be tortured in Nam. Its basic, predictable, silly, hammy, crude and completely not scary, everything you want from an 80's horror. The great thing about this film and others of the era is the hands on special effects which are always such a riot. Full length rubber suits and prosthetics which do look great on the zombie 'Big Ben', large drooling cupboard monsters, winged skeleton demons in stop motion, gremlins, alternate other worlds behind the bathroom mirror etc...its all fantastic stuff which your never sure is real or imaginary. If you like films like 'Night of the Creeps' 'Return of the Living Dead' 'Fright Night' etc...then I'm sure you'll get a kick outta this.
Phil Hubbs
Super Reviewer
A fun cliché ridden horror film, director Steve Miner's House blends horror and comedy albeit not effectively well. Still, the film is entertaining and fun. Blending haunted house elements with monster film elements, director Steve Miner crafts a unique comedy horror film that delivers a good time. The film could have been made better, and there are things that could have been changed, but for the most part, house (Ding Dong, You're Dead) is a thrilling horror flick that uses its clichés in a creative manner and makes this film a fun, entertaining experience. House is a silly film that is more fun than terrifying. The acting is quite over the top, but like I said, it's all in good fun. House is unsure of what it wants to be, a straight forward horror film, or a comedy horror film. At times, the film is pretty creepy, and it does have potential in being an effective, scary horror film. Unfortunately, the film is a bit too silly at times, and potential for this film in being a memorable horror film that could have been an effective haunted house / supernatural film is stripped away. Don't get me wrong, I enjoyed this film, but I just think the producers went way too overboard on the comic relief and tried to do too many things at once with this film. The films biggest problem and its biggest weakness is that it tried to pack too much material in a short running time. Thus, the film seems to be all over the place, it's a haunted house film one minute, the next minute it's a monster film and the next minute it's a comedy horror film. House is an entertaining film that is lots of fun to watch. However the film does leave a lot of improvement to be desired. Even with its faults, this is still an entertaining little film worth watching.
House (Ding Dong, You're Dead) Quotes
There are no approved quotes yet for this movie.