House On Haunted Hill
(1959)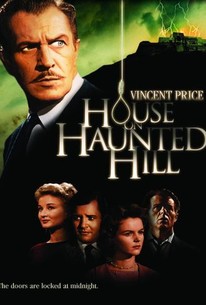 House On Haunted Hill Photos
Movie Info
A very wealthy man gives a haunted house party, offering to give each of his guests $10,000 - if they can survive the night.
News & Interviews for House On Haunted Hill
Critic Reviews for House On Haunted Hill
Audience Reviews for House On Haunted Hill
A wealthy man offers $10,000 to whomever can spend one whole night in this supposedly haunted house. Why is it thought to be haunted? Seven people have previously died there, died mysteriously. And so a group shows up in a go for the gold, but William Castle, the famous schlock horror director, has more in his mind than simply that. There's plenty of drive-in creepy mood. Vincent Price is certainly ominous, and that's expected, no, but I think it's Elisha Cook Jr.'s raving paranoid naysayer that puts this mere whodunit into horror territory and on edge. See it for that. Then consider for yourself how much the value of any property is increased when there's an acid bath included in the basement.
Kevin M. Williams
Super Reviewer
½
So silly and campy that it is likely to provoke more unintentional laughter than chills, given its complete disdain for realism, coherence and plausibility - like nobody able to hear a woman screaming that loud in the house or the ludicrous details involving the twist in the end.
Carlos Magalhães
Super Reviewer
½
This amazingly creepy fifties' horror film uses many gimmicks that would go on to make it a blockbuster as well as a television staple. Many of these gimmicks lend to its characterization of being cheesy and a little over the top. The best identifier of this, of course, is the presence and absolutely incomparable performance from the master of ghouls himself, Vincent Price. Price plays a wealthy magnate who invites several strangers to a supposedly haunted mansion for a party that he and his wife are putting on. Each of these five strangers will be willed 10,000 dollars if they can make it until morning, and all they have to do is live to see the sun rise. Many people have died in the house, and in many creepy and disturbing ways. These grotesque ways are oftentimes used to victimize the current guests of the manor, and lead to some great scares, even for a modern day audience. This is surely a classic horror film, while also being a thriller and a story of double cross. While you watch the horrors of the past you're also wondering whether or not these are truly ghosts and monsters or actually just ploys from the feuding husband and wife hosts, who show their contempt for one another at every turn. The guests are mostly throwaway bodies and suspects, except for a young woman and man who try to investigate every event that happens. For a film that is actually quite macabre, there's a sense of mystery and suspense as well, and we watch the twosome split and then come back together to share their progress. The setting is great, the lighting and cinematography is always dark and foreboding, and even for today's audiences this is definitely scary and netherwordly at times. Some truly interesting performances and a great decision to make a woman the lead and not a kidnapped hostage or murder victim.
Spencer S.
Super Reviewer
House On Haunted Hill Quotes
There are no approved quotes yet for this movie.