Hud
(1963)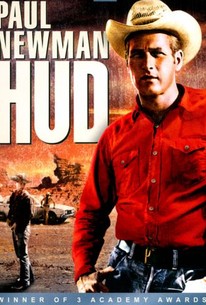 TOMATOMETER
AUDIENCE SCORE
Critic Consensus: A Western that swaps out the Hollywood glamor for shades of moral gray, Hud is a sobering showcase for a sterling ensemble of actors at the top of their respective games.
Movie Info
On a Texas ranch an unruly man is bitter enemies with his elderly father, assaults and abuses the woman housekeeper, and shows a young boy who idolizes him the wrong examples.
News & Interviews for Hud
Audience Reviews for Hud
Look under the skin of the American dream and there's a dust bowl the size of Texas, where the wide open spaces still do not provide enough breathing room, where everything still feels too unbearably close.. Martin Ritt's film introduces us to a family running their own spread, cowboys all, but disease and dissatisfaction, selfishness, eat away at any semblance of decency. Newman makes his mark as the most honest soul walking and unhappy, unhappy, unhappy. Melvin Douglas and Patricia Neal are great here.
Kevin M. Williams
Super Reviewer
I can't get enough of Larry McMurtry's West Texas, and Hud is yet another excellent film based on his novels (see: Last Picture Show, Lonesome Dove, Terms of Endearment, and note that he wrote the screen adaptation of E. Annie Proulx's short story Brokeback Mountain, too). Paul Newman plays one of the angriest young men you'll ever see on screen, a farm boy too wild for his home who has a terrible relationship with his father, and maybe a drinking problem. Brilliant for its esoteric nods to remote, small town life, and memorable for the Oscar-winning performances by Patricia Neal and Melvyn Douglas, Hud tells a classic story that, though it slows a little by times, frequently punches you in the gut like only McMurtry can. The writing is incredibly economical, too. As Chekhov said, if there's a gun on the mantle in Act I, it had better go off in Act III. Every new element that comes into the story pays off, to the point that, with every new revelation, you ask, "Now where is THIS going to go," and you're never disappointed. It's a very good film.
Daniel Perry
Super Reviewer
½
Bleak, beautiful, and well acted = my kind of film.
Hud Quotes
| | |
| --- | --- |
| Alma Brown: | Hud Bannon: You're half native already. I've never seen you in a pair of shoes since you have work here. Alma Brown: I wore'em once. I think to get married in. White satin pumps. I don't have'em anymore or the man |
| Hud Bannon: | Hud Bannon: You're half native already. I've never seen you in a pair of shoes since you have work here. |
| Alma Brown: | I wore'em once. I think to get married in. White satin pumps. I don't have'em anymore or the man. |
| | |
| --- | --- |
| Alma Brown: | Hud Bannon: Man like that sounds no better than a heel. Alma Brown: Aren't you all? Hud Bannon: Honey don't go shooting all the dogs 'cause one of 'em's got fleas. Alma Brown: I was married to Ed for six years. Only thing he was ever good for was to scratch my back where I couldn't reach it. Hud Bannon: You still got that itch? Alma Brown: Off and on. Hud Bannon: Well let me know when it gets to bothering you. |
| Hud Bannon: | Hud Bannon: Man like that sounds no better than a heel. |
| Alma Brown: | Aren't you all? |
| Hud Bannon: | Honey don't go shooting all the dogs 'cause one of 'em's got fleas. |
| Alma Brown: | I was married to Ed for six years. Only thing he was ever good for was to scratch my back where I couldn't reach it. |
| Hud Bannon: | You still got that itch? |
| Alma Brown: | Off and on. |