The Hunchback of Notre Dame
(1923)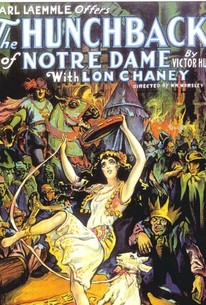 The Hunchback of Notre Dame Photos
Movie Info
This second film version of the Victor Hugo novel Notre Dame de Paris (the first was a Theda Bara vehicle, The Dancer of Paris) was a super-duper-spectacular as only Hollywood of the 1920s could make them, but it is never so large that it dwarfs the contribution of its star, Lon Chaney. As the hunchbacked bellringer Quasimodo, Chaney adorned himself with a special device that made his cheeks jut out grotesquely; a contact lens that blanked out one of his eyes; and, most painfully, a huge rubber hump covered with coarse animal fur and weighing anywhere from 30 to 50 pounds. While Quasimodo is but one of many interconnecting characters in the original Hugo novel, he dominates the narrative of this expensive Universal production. Set in the walled city of Paris in the 16th century, the story is set in motion when the evil Jehan (Brandon Hurst), brother of saintly Notre Dame archdeacon Dom Claude (Nigel De Brulier), orders the dog-like Quasimodo to attempt to kidnap gypsy girl Esmeralda (Patsy Ruth Miller). Quasimodo is captured and flogged for his crime, whereupon Esmeralda shows him kindness by offering him water. He reciprocates when Esmeralda, framed on a murder charge by the obsessed Jehan (if he can't have her, no one can), is sentenced to be hanged. Quasimodo grabs a rope and swings down from the towers of Notre Dame, rescues Esmeralda from the gallows, and carries her into the church, shouting "Sanctuary! Sanctuary!" Through a series of convoluted plot twists, Clopin (Ernest Torrence), the king of beggars, leads an army of the Parisian poor to storm the gates of the cathedral and reclaim Esmeralda. Quasimodo defends both the girl and his church by tossing heavy objects and pouring molten lead upon the invaders. This climactic scene was filmed at night, requiring the services of literally every arc light in Hollywood. The Notre Dame set (which wasn't quite as large in real life as it seems on screen) remained standing on the Universal back lot for years after this film was completed, doing background service in the 1925 Lon Chaney starrer The Phantom of the Opera. With Hunchback of Notre Dame, Lon Chaney rose from mere leading player to major star, which led him to even greater success at MGM, where his reputation as "the man of a thousand faces" really got a workout. The story would be remade by in 1939 with Charles Laughton, in 1955 with Anthony Quinn, in 1982 with Anthony Hopkins, and again in 1996 as a sanitized Disney animated musical.
Critic Reviews for The Hunchback of Notre Dame
Audience Reviews for The Hunchback of Notre Dame
Deformed bell-ringer Quasimodo takes it upon himself to protect the beautiful and kindhearted gypsy girl Esmeralda when she is falsely accused of murder. The silent version with Lon Chaney is understandably overshadowed by the magnificent talkie with Charles Laughton, but this one is fast-paced and spectacular by silent film standards, packing quite a bit of Victor Hugo's novel into about two hours.
½
Worth seeing for Lon Chaney's performance and the grand 15th century Paris settings.
Christopher Heim
Super Reviewer
To be honest I was expecting to like this a lot more than I did. I'm especially disappointed that adaptation decay existed even in the very early pictures, and I wasn't really able to get over how sanitised elements of it were from the novel.
The Hunchback of Notre Dame Quotes
There are no approved quotes yet for this movie.