The Hunchback of Notre Dame
(1939)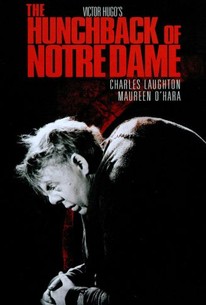 The Hunchback of Notre Dame Photos
Movie Info
In 15th century France, a gypsy girl is framed for murder by the infatuated Chief Justice, and only the deformed bellringer of Notre Dame Cathedral can save her.
Critic Reviews for The Hunchback of Notre Dame
Audience Reviews for The Hunchback of Notre Dame
Victor Hugo's classic tale of a fated love between a hunchback and a gypsy girl. Hugo's eye for characterization, complex interconnected plots, revolutionary fervor, the healing power of religion, social outcasts, and love is on full display in this film adaptation of his novel Notre Dame de Paris. The script gives the basics, the skeleton, that the novel fills out, but considering Hugo's loquaciousness, the screenplay is nonetheless an achievement. Charles Laughton is at his most affecting. The burly character actor becomes Quasimodo with the same alacrity that he became Henry VIII. Comparable to Phillip Seymour Hoffman of our time (though a talent truly to say beyond compare), Laughton was his era's artist. Overall, this is a thrilling and emotional adaptation of an excellent novel.
Jim Hunter
Super Reviewer
½
Medieval drama about a gypsy girl who comes to Paris and the physically disfigured bell ringer she befriends. The narrative's success derives from how it captures the tragic plight of our bell ringer in Paris' legendary church so perfectly. Society's tendency to build someone up one minute only to tear them down the next is brilliant paralleled in Quasimodo's story arc. First being crowed "King of Fools" at the festival one moment then they're publicly whipping him in the town square the next. The quality of the performances is what elevates this to a work of art. Charles Laughton gives the definitive performance of Quasimodo, the deformed hunchback of Notre Dame. A delightfully atypical choice to play a sympathetic role, for an actor often type-cast as people with arrogant or unscrupulous qualities. His expressive face speaks volumes. Indeed for the first third, he doesn't utter a word. He's supported by a stellar cast. Maureen O'Hara is radiant as Esmeralda, a lovely gypsy who inspires passion in several men. Her touching act of kindness toward Quasimodo at one of his darkest hours is a beautifully acted gesture filled with poignancy. At the other end of integrity is Frollo played by Sir Cedric Hardwicke. A villainous tour de force, he is a stern, deeply flawed individual consumed by earthly desire and a lack of accountability. Also worth mentioning is Edmond O'Brien in his film debut . Esmeralda's chemistry with him as the slightly goofy poet-playwright Gringoire is sweet. Performances and set design combine perfectly to create a sweeping historical epic for the ages with a surprising amount of human intimacy. Whether it's 15th century France or elsewhere modern world, the film's themes transcend time and place.
Mark Hobin
Super Reviewer
½
Laughton is great and the picture is a high quality production the only negative is the complete absence of anything but American accents which can be distracting. Screen debuts for both O'Hara and O'Brien who is so young and slender at first he's not recognizable both acquit themselves well though.
The Hunchback of Notre Dame Quotes