Impulse
(1984)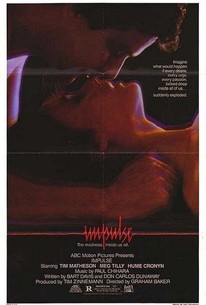 Movie Info
Bad behavior turns deadly in this science-fiction drama. Jennifer (Meg Tilly) is a woman who grew up in the small town of Sutcliffe, which much of her family still calls home. One day, Sutcliffe is hit with a minor earthquake, which doesn't appear to do much damage, but a strange and disquieting turn in the city's collective behavior soon becomes apparent. Jennifer receives a phone call from her mother (Lorinne Vozoff), but while they've always had a cordial relationship, her mother loudly and hysterically berates her, and the call comes to a disturbing conclusion when her mother shoots herself. Jennifer and her husband Stuart (Tim Matheson) rush to Sutcliffe to discover that her mother is seriously injured by still alive. However, it seems as if all boundaries of civility and etiquette have broken down, as violence, crime, and rabid anger rule the usually quiet streets of Sutcliffe. It seems that the earthquake caused the town's milk supply to be contaminated by toxic waste which has an unusual psychoactive effect -- it makes it impossible for people to resist the common anti-social impulses that all people have, but most keep closely in check. Hume Cronyn plays the town's doctor; Bill Paxton, Claude Earl Jones, and Amy Stryker also appear.
Critic Reviews for Impulse
Audience Reviews for Impulse
This is like a zombie movie without the scares, and with a romance going on at the same time. It's okay, but I think they needed more time to work on the script or something, the ending is especially bad.
A case where the premise was better than the actual film. Still, if it wasn't for all the erotic scenes, it would've been a decent flick.
Christopher Brown
Super Reviewer
Impulse Quotes
There are no approved quotes yet for this movie.