In Cold Blood
(1967)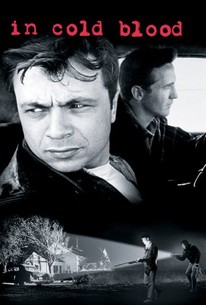 TOMATOMETER
AUDIENCE SCORE
Critic Consensus: In Cold Blood is a classic docudrama with a fictional thriller's grip -- and a pair of terrific lead performances from Robert Blake and Scott Wilson.
Movie Info
This docudrama recreates a real life crime in which an entire family was brutally murdered by wandering gunmen.
News & Interviews for In Cold Blood
Critic Reviews for In Cold Blood
Audience Reviews for In Cold Blood
½
A stark, realistic portrayal of cold-blooded violence taking over a couple of young mens' senses, and how they go on the run from the police trying to track them down after brutally murdering the family of four they originally planned to rob and leave. Based on true events, director Richard Brooks patiently and disturbingly paints a picture of two characters who act stupidly and carelessly, concentrating on fulfilling their own shortsighted, selfish desires while senselessly taking away four lives. At times, Brooks seems to be over-sympathizing and romanticizing these two killers, but based on this film as well as the equally phenomenal "Capote", it seems like the Perry Smith character (in this case played by Robert Blake) had a heart and was truly sorry for his heinous act of violence. Definitely a little dated, but still a shocking study that remains gritty and arresting throughout. Blake and Scott Wilson (now of "The Walking Dead" fame) are utterly fantastic in their respected roles. A movie that definitely should be seen. The only thing that keeps it from being an all-time great is an unnecessary, unfair take on the death penalty, marring an otherwise outstanding second half of the film especially.
Dan Schultz
Super Reviewer
In the last second of that film, I actually out loud exclaimed "Jesus" in my reaction to it. A little history now. When I was very small I saw the murder part of "Cold Blooded" on TV. A modern edition of the same story. And it scarred me horrifically. When I was older and understood the whole thing better, and watched Capote, I became more intrigued in the murders, me being all morbid and what not (I secretly blame that movie scene...). But this was FANTASTIC! The acting was spot on. The cinematography was stupendous! I mean I think I had forgotten what great cinematography looked like in black and white films, this gave me such a refresher. The deep, looming, heavy shadows, the use of the flashlights, even the daytime scenery. So amazing. The last 45 minutes had my complete attention. So compelling and sinister. I could not look away. And the very end had my heart pounding. To anyone who snubs a film made before 2000, I challenge you to this.
Jennifer D
Super Reviewer
Truman Capote was sent to Kansas to write an article about the senseless murder of a family in their farm house in the middle of the night. What he brought back was the timeless novel In Cold Blood, telling that story and the stories of the two young men that were going to the gallows for that crime. I've never read the source material, but I've seen both adaptations of Capote actually researching the novel (Capote with Philip Seymour Hoffman and Infamous with Toby Jones). Both docudramas are powerful pieces in their own right, but it's this film that is a masterpiece. It stars Robert Blake as Perry and Scott Wilson as Dick. These guys have both been to prison, each of them with dreams to follow. The thing about dreams is they need working capital, like a business. So in the dead of the night they follow a prison tale of a farmer and his safe, driving to the rural Kansas home. The next morning the family is dead. No safe. No money. No dreams. We continue to follow the pair as the haphazardly make their way to Mexico for a little bit, but they come back because those dreams are so damn good. The inevitable happens. They make the mistake and Lady Justice takes over. Before this film there were movies that followed the antagonists point of view, but In Cold Blood makes you sympathize with these two young murderers or in the very least Perry. Here's two men that slaughtered an entire family in their own home and we feel pity for them. They're lifetime losers and this was where the road they shared was heading for a long, long time. They were ticking time bombs. They were two chemicals that mixed together and tragedy followed. The movie is filmed as bleakly as the characters it shows us. Black and white in 1967 was very rare, but for this film it works for an added effect that would later be used by Scorsese in raging Bull and Spielberg in Schindler's List.There is no color because this life is colorless. There are no bright spots. Darkness is at the end of that tunnel, not that great light that everyone is talking about. This is a very beautiful film from director Richard Brooks. This is one of those wonderful gems from the late 1960's that teetered between the old Hollywood and the new. This was before the ratings system, so hearing the word "bullshit" was an awe inspiring experience (this is the first Hollywood production that used it). In Cold Blood is a groundbreaking film that broke new ground and even though it didn't quite open the door for those great films of the 1970's we can say that it turned the latched and cracked it open a bit. This is one of the great films of the '60's.
Chris Garman
Super Reviewer