The Invisible Man
(1933)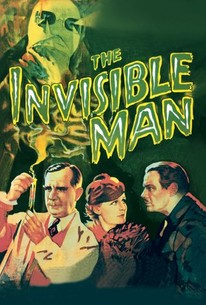 TOMATOMETER
AUDIENCE SCORE
Critic Consensus: James Whale's classic The Invisible Man features still-sharp special effects, loads of tension, a goofy sense of humor, and a memorable debut from Claude Rains.
Movie Info
A mysterious stranger, his face swathed in bandages and his eyes obscured by dark spectacles, has taken a room at a cozy inn in the British village of Ipping. Never leaving his quarters, the stranger demands that the staff leave him completely alone. Working unmolested with his test tubes, the stranger does not notice when the landlady inadvertently walks into his room one morning. But she notices that her guest seemingly has no head! The stranger, one Jack Griffin, is a scientist, who'd left Ipping several months earlier while conducting a series of tests with a strange new drug called monocane. He returns to the laboratory of his mentor, Dr. Cranley (Henry Travers), where he reveals his secret to onetime partner Dr. Kemp (William Harrigan) and former fiancee Flora Cranley (Gloria Stuart). Monocane is a formula for invisibility, and has rendered Griffin's entire body undetectable to the human eye. Alas, monocane has also had the side effect of driving Griffin insane. With megalomanic glee, Griffin takes Kemp into his confidence, explaining how he plans to prove his superiority over other humans by wreaking as much havoc as possible. At first, his pranks are harmless; then, without batting an eyelash, he turns to murder, beginning with the strangling of a comic-relief constable. When Kemp tries to turn Griffin over to the police, he himself is marked for death. Despite elaborate measures taken by the police, Griffin is able to murder Kemp, considerately taking the time to describe his homicidal methods to his helpless victim. After a reign of terror costing hundreds of lives, Griffin is cornered in a barn, his movements betrayed by his footsteps in the snow. Mortally wounded by police bullets, Griffin is taken to a hospital, where he regretfully tells Flora that he's paying the price for meddling into Things Men Should Not Know. As Griffin dies, his face becomes slowly visible: first the skull, then the nerve endings, then layer upon layer of raw flesh, until he is revealed to be Claude Rains, making his first American film appearance. So forceful was Rains' verbal performance as "The Invisible One" that he became an overnight movie star (after nearly twenty years on stage). Wittily scripted by R.C. Sherriff and an uncredited Philip Wylie, and brilliantly directed by James Whale, The Invisible Man is a near-untoppable combination of horror and humor. Also deserving of unqualified praise are the thorouhgly convincing special effects by John P. Fulton and John Mescall. With the exception of The Invisible Man Returns, none of the sequels came anywhere close to the quality of the 1933 original. Trivia alert: watch for Dwight "Renfield" Frye as a bespectacled reporter, Walter Brennan as the man whose bicycle was stolen, and John Carradine as the fellow in the phone booth who's "gawt a plan to ketch the h'invisible man." ~ Hal Erickson, Rovi
News & Interviews for The Invisible Man
Critic Reviews for The Invisible Man
Audience Reviews for The Invisible Man
½
Jack Griffin/The Invisible One: An invisible man can rule the world. Nobody will see him come, nobody will see him go. He can hear every secret. He can rob, and rape, and kill! "H.G. Well's Fantastic Sensation" The Invisible Man may be my favorite of the old, old school Universal horror/monster films. James Whale(Frankenstein) and Claude Rains make for an impressive director, actor combination and the result is maybe one of the first truly amazing horror films. Watching this 80 years after its release, we have to take the acting(especially dramatic) moments with a grain of salt. While the acting is ridiculous and laughable at times, the story, direction, and lead are all very impressive and is what makes this movie the timeless classic it remains. A lone stranger walks into a tavern late at night during a snowstorm. He requests a place to stay and a fire, but also to be left undisturbed. The man is a scientist and he recently figured out a way to turn himself invisible. The only trouble is he doesn't know how to reverse it. When the people at the tavern threaten to throw him out, his madness at the hands of the drug he used to turn himself invisible, takes over and he becomes a homicidal maniac. And the only things worse than a homicidal maniac, is an invisible homicidal maniac. As a lover of every type of horror genre and time, from old to new, from science fiction to slash trash; it's always a great experience to finally watch a movie that is so important and great a film as The Invisible Man. Today, it doesn't seem like much of a horror film, with the scares being mild when seen by today's audience. Really though this has such great usage of special effects, for the time, and I'm sure upon release it did creep out the 1933 audience.  I can't recommend The Invisible Man enough. It's a nearly perfect movie today and had I seen it when it was first released back in the 30's, I probably would have thought it was perfect. This is a new favorite of mine when it comes to the science fiction horror sub genre and is one that needs to be seen by all film/horror buffs. 
Melvin White
Super Reviewer
½
MGM and Universal monster movies were undoubtedly popular in the fifteen years or so they were heavily produced and marketed to the public. Some of the greatest horror films and classic films have come from these films and the way they were shown to audiences, including Frankenstein's monster, Dracula, and The Wolf-Man. A film that didn't rely so heavily on horror and more on the horror of science fiction gone wrong, "The Invisible Man" is the first in a long line of films to feature an invisible protagonist in the lead role. Instead of someone getting into hijinks and ending up invisible, thus ensuing into further shenanigans, the original and seminal Invisible Man is a story of pain and hell-bent rage. Claude Rains found the role of the afflicted Jack Griffin to be a stepping stone to bigger and better things, and though he was not clearly visible until the last few seconds of the film it turned him into a star.( He later became immortalized in The Rocky Horror Show's opening song). Here he embraces the deficits of his acting abilities by using broad arm gestures and cocky language to bring his character some clarity to the audience. The premise of the film is to show Rains as a demented scientist, given the power of invisibility in order to escape the clutches of the mobbing public and kill those who would stop him. His exploits aren't very horrific, except when he tries to blackmail a former colleague into killing with him, but he isn't all too persuasive. Intercut are scenes of Jack's lover, played by Gloria Stuart, which only serve to fill time until they catch him. A truly iconic and historically significant film in the context of its still stellar effects, "The Invisible Man" is yet another classic monster you love to hate, and love to love.
Spencer S.
Super Reviewer
The Invisible Man based on the novel by H.G Wells is a stunning horror classic that is a benchmark in cinema. A brilliant film that has stunning special effects, considering that this was made in 1933. This is a brilliantly directed film. The cast here is terrific and they all deliver great performances. I especially thought that Charles Rains performance as Jack Griffin / The Invisible Man was one of a kind. His performance as the title character is one of the best performances in the early years of horror. Along with other horror classics such as Dracula and The Mummy, The Invisible Man is a definite classic and the story and special effects are astounding. Though the film is quite short, the film does move along at a steady pace, and director James Whale effectively builds the tension on-screen as we see The Invisible Man go from scientist to psychopath. The film is phenomenal and is a definite must see for horror fans seeking to broaden their knowledge of horror films. The Invisible Man is a solid piece of horror history and remains a favorite of the genre. If you want a solid horror classic, then give this one a shot. This film has superb acting and directing. The special effects are astounding and will leave you in awe. This is by far the best in the series, as the sequels always fail to capture the magic of the first. The Invisible Man is not only a classic of horror, but is a classic of cinema as well. A superbly well acted film that every serious film buff should see.
The Invisible Man Quotes
| | |
| --- | --- |
| Jaffers: | Look! He's all eaten away. |
| | |
| --- | --- |
| Jack Griffin/The Invisible One: | I shall kill you even if you hide in the deepest cave of the Earth. At ten o'clock tomorrow night, I will kill you! |
| | |
| --- | --- |
| Jack Griffin/The Invisible One: | Power, I said! Power to walk into the gold vaults of the nations, into the secrets of kings, into the Holy of Holies; power to make multitudes run squealing in terror at the touch of my little invisible finger. Even the moon's frightened of me, frightened to death! |
| | |
| --- | --- |
| Jack Griffin/The Invisible One: | [Griffin to Kemp as he at the Door] Bring a blacket with you, it's cold outside when you have to go about naked |
| Jack Griffin/The Invisible One: | Bring a blacket with you, it's cold outside when you have to go about naked. |