Ivanhoe
(1952)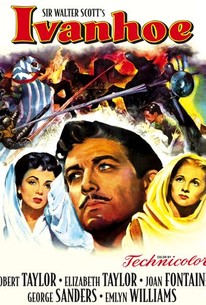 Movie Info
Returning to England from the Third Crusades, Ivanhoe is given a cool but cordial reception by his estranged father Cedric, a Saxon who despises the Norman king Richard the Lionhearted. Leaving his father's castle, Ivanhoe rescues Isaac, a wealthy Jew, from a band of anti-Semitic Normans.
Critic Reviews for Ivanhoe
Audience Reviews for Ivanhoe
½
Richard the Lionhearted had yet to return from the debacle that was the 3rd Crusade and the Norman peoples in England are not being nice to the "we were here first, praise Jesus!" Saxon crowd in the meantime. Robin of Locksley and his boys are busy holding barbecues in the woods, so what's a country to do? Enter (in Technicolor) the wooden Robert Taylor, the only Saxon Knight with the heuvos rancheroes to take on the filthy, inbred, child molestin', yada-yada Norman scum. George Sanders capably fills his bad guy suit of armor, and Ms. Taylor, more radiant than when she played Cleopatra years later, is the woman between them. The siege at the castle is pretty cool.
Kevin M. Williams
Super Reviewer
Not perfect but better than the 1982 version. The MGM Ivanhoe is a good example of the medival swashbucker. Sure, it's not without shortcomings--Athelstane and Ulrica do not appear and Rebecca is tried by Prince John instead of Lucas Beaumanoir--but it's a well-paced movie that hits the highlights of the novel and features far better production values than the 1982 remake. Elizabeth Taylor looks gorgeous and plays Rebecca with a strong sense of love, courage and friendship. Joan Fontaine is lovely as Rowena (Lysette Anthony is the merest painted doll in comparision) and you don't wonder why Ivanhoe fell in love with her. Robert Taylor was a decent competent actor but never brilliant. (Why Richard Thorpe would cast an American in a sea of British actors is beyond me.) However, he does well in the battle sequences and proves a good masculine contrast to the effeminante-looking Anthony Andrews. Finlay Currie is grand as Lord Cedric, Emlyn Williams is a whimsical Wamba and Guy Rolfe is a truly nasty and crafty Prince John. Not the best adaption of Sir Walter Scott's classic but still a very darn good one!
Lukas Miller
Super Reviewer
I wouldn't call this one of the best swashbuckling adventures, as flixster does. It has it's moments, but it isn't too exciting. It's just okay.
Ivanhoe Quotes
There are no approved quotes yet for this movie.