The Jazz Singer
(1927)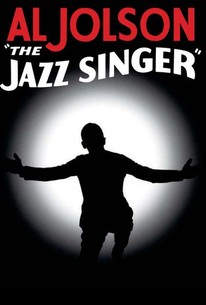 TOMATOMETER
AUDIENCE SCORE
Critic Consensus: The Jazz Singer's synchronized dialogue marks a milestone for cinema, but apart from Al Jolson's performance, this is a rather ordinary story made noteworthy by its technical wonders.
Movie Info
On the verge of receivership in 1926, Warner Bros. studio decides to risk its future by investing in the Vitaphone sound system. Warners' first Vitaphone release, Don Juan, was a silent film accompanied by music and sound effects. The studio took the Vitaphone process one step farther in its 1927 adaptation of the Samson Raphaelson Broadway hit The Jazz Singer, incorporating vocal musical numbers in what was essentially a non-talking film. Al Jolson stars as Jakie Rabinowitz, the son of Jewish cantor Warner Oland. Turning his back on family tradition, Jakie transforms himself into cabaret-entertainer Jack Robin. When Jack comes home to visit his parents, he is warmly greeted by his mother (Eugenie Besserer), but is cold-shouldered by his father, who feels that Jack is a traitor to his heritage by singing jazz music. Several subsequent opportunities for a reconciliation are muffed by the stubborn Jack and his equally stubborn father. On the eve of his biggest show-business triumph, Jack receives word that his father is dying. Out of respect, Jack foregoes his opening night to attend Atonement services at the temple and sing the Kol Nidre in his father's place. Through a superimposed image, we are assured that the spirit of Jack's father has at long last forgiven his son. Only twenty minutes or so of Jazz Singer is in any way a "talkie;" all of the Vitaphone sequences are built around Jolson's musical numbers. What thrilled the opening night crowds attending Jazz Singer were not so much the songs themselves but Jolson's adlibbed comments, notably in the scene where he sings "Blue Skies" to his mother. Previous short-subject experiments with sound had failed because the on-screen talent had come off stilted and unnatural; but when Jolson began chattering away in a naturalistic, conversational fashion, the delighted audiences suddenly realized that talking pictures did indeed have the capacity to entertain. Despite its many shortcomings (the storyline goes beyond mawkish, while Jolson's acting in the silent scenes is downright amateurish), The Jazz Singer was a box-office success the like of which no one had previously witnessed. The film did turn-away business for months, propelling Warner Bros. from a shoestring operation into Hollywood's leading film factory. Proof that The Jazz Singer is best viewed within its historical context is provided by the 1953 and 1980 remakes, both interminable wallows in sentimental goo. Worse still, neither one of those films had Al Jolson--who, in spite of his inadequacies as an actor, was inarguably the greatest musical entertainer of his era. ~ Hal Erickson, Rovi
Critic Reviews for The Jazz Singer
Audience Reviews for The Jazz Singer
Notable as the first feature film with audible dialogue and touching as it shows a man torn apart by a difficult decision, it becomes a disgusting melodrama in its last fifteen minutes, when its two possible endings are thrown in together and the character makes a most unacceptable choice.
Carlos Magalhães
Super Reviewer
½
Back in the 1930's Al Jolson was the highest paid entertainer in the business. In the USA he was a massive massive star (the biggest!) but he was also hot stuff around the world having hit after hit alongside international tours with many movies to his name. Let me put it this way, Jolson was the Michael Jackson or Elvis Presley of his time. Now admittedly many of his movies were never really much cop due to changing tastes over the years and the fact his movies tended to be very samey. It was always that first talkie movie he starred in that really stuck out, probably because it was the first...well actually the second but 'A Plantation Act' was more of a selection of songs and not an actual movie. The Jazz Singer is based on Jolson's life growing up in New York. The story was actually written by Samson Raphaelson after interviewing Jolson on his upbringing, he later adapted the story for the theatre and it became a hit. Warner Bros then acquired the rights to the play and naturally wanted to make a movie out of it, at first Jolson wasn't in line to star in the movie but eventually, long story short, he obviously got it and the rest is history. I guess you could say this film is a biography of sorts, I'm not entirely sure how much is accurate but I thinks its pretty close to Jolson's early years and beyond. The story follows a young Jolson (in the film Jakie Rabinowitz...can't get more Jewish than that folks) getting in trouble with his strict Jewish father for singing in local beer gardens and acting the fool. His father is a cantor at the local synagogue on the Lower East Side of Manhattan, a fully Jewish area. I'm sure you can guess what goes down here, Jakie's father wants his son to be a good religious boy and follow in his footsteps as a cantor, following family tradition and following his destiny. Unfortunately the rebellious young Jakie wants to do other things and ends up running away to choose his own destiny. Over the years Jakie becomes a talented budding singer with a very bright future but as you can guess all this conflicts with his father and eventually he must choose between his career and his family roots and heritage. Now I won't lie and say this film is amazing simply because it is historically very important (the film was chosen for preservation in the US Library of Congress's National Film Registry), in all honesty most of the story is rather dull. Hold your horses let me explain, the film is of course black and white but that's not a problem for me. There is of course no sound or dialog for the most part accept for Jolson singing (silent film remember), this means we have lots of rather bland full screen old fashioned subtitles that explain very little. They are also rather limited in appearance so half the time your kinda guessing what's going on by the musical score and peoples expressions. It doesn't help at times that the language of the age is also slightly different, the way people wrote, certain words used etc...a different era. The acting is naturally a bit crappy throughout with the odd exception, Otto Lederer is easily the most entertaining character in the movie with his cheerful comedic turn. You can relate to his feelings on what's happening around him whilst everyone else is deathly serious and boring, plus he has an amusing face which helps. Of course the real highlight of the entire feature is seeing and hearing Al Jolson hammer out his legendary tunes (only six though). This is really why you watch the movie, the plot is extremely predictable and basic (taking into account the age of the film of course) and its not really that gripping, you're here for the jazz singer himself and he doesn't disappoint. As I was growing up my dad would play Al Jolson every Christmas, it was a family tradition to have old Al singing in the background while our little family would enjoy the festive period. So I know how Jolson sounds, I know most of his hits and some of the famous lyrics, but its something else to actually watch the man perform for real. A small quirky fella with big bright eyes, highly animated and amusing to watch as he bobs his head around like crazy whilst clapping, mugging at the camera and generally showing off. His routines are full of energy and his voice is loud, bold and pitch perfect, the man is clearly getting a buzz enjoying every second. Its all so very charming and delightful you can't help but smile seeing how people enjoyed the simple things back then. There is even a small sequence where Jolson improvises a lot of dialog with Eugenie Besserer (who plays his old mother) which shows the mans sky high confidence in what he could do both musically and verbally. Besserer clearly has trouble keeping pace and shows us one reason why many actors/actresses back then were scared of talkies...their voices sounded terrible! Towards the finale we do see the famous blackface routine which was commonplace at the time. These days of course it would be frowned upon and admittedly its hard to watch without feeling a tad awkward. I found myself wondering why on earth they did it in the first place, how did it make their performances any better? why hide away behind the makeup? I think it derives from centuries old history where people would perform theatrical shows, plays or skits and perform as black people simply because there weren't any black people around to do so. Anyway the blackface performance by Jolson is really the central part of the film, everything builds up to this one outstanding performance, the moment he cracks the big time. I believe it is displaying how both Jolson (in reality) and his character broke away from the burdens of a heavily religious Jewish life and made their mark in America, both in show business and personally. The blackface performance, his music...it all helps him prove to himself that he can be something other than a Jewish immigrant...but naturally for the sake of the movie there is a happy ending honouring his family traditions. It does feel weird knowing you're watching the first ever talkie movie...despite the fact its only the songs that have sound. It is a real gem of a time capsule seeing old 1920's New York, the people, the attire etc...its very interesting in more ways than one. Its funny even at the time the critics said it was a simple schmaltzy affair and they weren't wrong. Its cram-packed full of sickly sentimental family customs, rituals and traditional beliefs...in short...its all very Jewish (and I know about that). Honesty its not really a movie as such, you could almost say it was a bit of a gimmick to both promote Jolson and at the same time use him to promote talking pictures in the best way possible. More of an experiment with talking pictures which at the same time takes the opportunity to capture the greatest performer of the age. 'wait a minute, wait a minute, you ain't heard nothin' yet!'
Phil Hubbs
Super Reviewer
½
Hoary old chestnut that should be seen for its historical significance, aside from that its the ripest kind of melodrama. Overwrought acting, clutched bosoms, fevered declamations, the works are on display here. Do keep an eye out for a young Myrna Loy, just starting out, as a chorus girl.
The Jazz Singer Quotes
| | |
| --- | --- |
| Jakie Rabinowitz (Jack Robin): | Wait a minute, wait a minute. You ain't haerd nothin' yet! |
| Jakie Rabinowitz (Jack Robin): | Wait a minute, wait a minute. You ain't heard nothing yet! |
| | |
| --- | --- |
| Jakie Rabinowitz (Jack Robin): | Wait a minute, wait a minute. You ain't haerd nothin' yet! |