Journey Into Fear
(1943)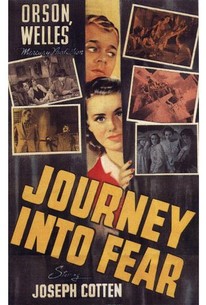 Movie Info
In this film, Joseph Cotten stars as an American gunnery engineer up to his armpits in international intrigue. Targeted for extermination by the Gestapo, Cotten secretly books passage on a steamer bound to Batumi. From the outset, it is no secret that one of the passengers is a Nazi assassin.
Critic Reviews for Journey Into Fear
Audience Reviews for Journey Into Fear
½
I thought this film about a Naval Engineer being chased by an assassin in Turkey would be better than it turned out to be. It had all kinds of opportunities to be suspenseful, but it just didn't pull it off very well. I normally like Joseph Cotten, but here he came across as more ornery than sympathetic. And he allowed himself to be hauled away by his "protectors" far too easily, without putting up much of a fight, even though his wife was being left behind without a word from him. There was far too many "coincidences" of people being in the right place at just the right time. A good try, but....try harder next time. One note: In a scene on the boat between Cotten and Dolores Del Rio, she makes the observation that she is opening up to him, but all she knows about him is that he's an engineer and has "a nice..." and then the ship's horn blares as she finishes her sentence. Surely she wasn't saying that he had a nice ass -- not in 1943? But what else could it be? Addendum: After reading the other reviews on this film, it appears that the film was re-edited post-production a la The Magnificent Ambersons. Perhaps it was similarly butchered by some inept clod with no sense of timing or suspense. Could a re-issue be in its future?
Not a bad film produce by the Mercury Theater right after Ambersons. This is not directed by Welles, but does have some of his influence. It's about a engineer (played and screenplay co-written by Cotton) who the Nazi's want dead. After a attempt on his life he sneaks out of Turkey on a boat and meets some interesting characters. It's a short film that RKO cut down, and after the cut of Amberson's and the debacle of It's all True this was the last film Welles and his Mercury Theater did with RKO.It's a fun film and had some potential, but doesn't have the zest of the rest of the Mercury Theater Productions.
cody franklin
Super Reviewer
½
a decent thriller from mercury theater with joseph cotten caught up in a ring of spies. orson has a small part as head of turkish secret police with an awesome astrakhan!
Stella Dallas
Super Reviewer
Journey Into Fear Quotes
There are no approved quotes yet for this movie.