The Key
(1958)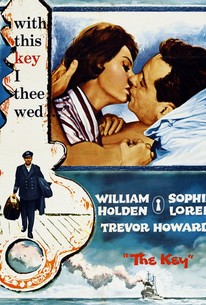 AUDIENCE SCORE
Critic Consensus: No consensus yet.
Movie Info
The Key was adapted by Carl Foreman from Stella, a novel by Jan De Hartog. The time is WW2: The place, Plymouth England. Canadian tug captain David Ross (William Holden) and his British counterpart Chris Ford (Trevor Howard) pay a visit to Ford's lady friend Stella (Sophia Loren). Before the men leave, Ford is handed Stella's apartment key. It turns out that this key is harbinger of death; it has previously been held by Stella's former lovers, all tug captains, all dead. When Ford is killed in combat, Tennant comes into possession of the key, returning to Stella to commence a torrid love affair. However, she is unable to fall in love with Tennant, sensing that his demise is imminent. Eventually, she does fall for him, vowing that if he survives the war, she will never pass her key along to any other man. As a result, Tennant begins exhibiting hesitance in battle, as if determined to break the "jinx" at the expense of his fellow seamen. It would be the height of bad form to give away the ending at this point.
Audience Reviews for The Key
Good acting but could have used a heavy dose of the editor's shears. Overlong long by at least half an hour.
The Key Quotes
There are no approved quotes yet for this movie.