The King and I
(1956)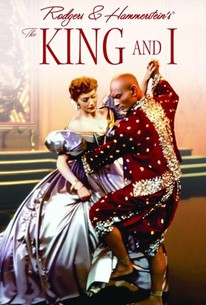 Movie Info
The King and I, Richard Rodgers and Oscar Hammerstein's 1951 Broadway musical hit, was based on Margaret Landon's book Anna and the King of Siam. Since 20th-Century-Fox had made a film version of the Landon book in 1946, that studio had first dibs on the movie adaptation of The King and I. Deborah Kerr plays English widow Anna Leonowens, who comes to Siam in the 1860s to tutor the many wives and children of the country's progressive King (Yul Brynner, recreating his Broadway role-and winning an Oscar in the process). The culture clash between Anna and the King is but one aspect of their multilayered relationship. Through Anna, the King learns the refineries and responsibilities of "modern" western civilization; Anna meanwhile comes to realize how important it is for an Oriental ruler to maintain his pride and to uphold the customs of his people. After a successful evening entertaining foreign dignitaries, Anna and the King celebrate with an energetic dance, but this is cut short by a bitter quarrel over the cruel punishment of the King's new Burmese wife Tuptim (Rita Moreno), who has dared to fall in love with someone else. Despite the many rifts between them, Anna and the monarch come to respect and (to a degree) love one another. When the King dies, Anna agrees to stay on to offer help and advice to the new ruler of Siam, young Prince Chulalongkhorn (Patrick Adiarte). In general, The King and I tends to be somewhat stagey, with the notable exception of the matchless "Small House of Uncle Thomas" ballet, which utilizes the Cinemascope 55 format to best advantage (the process also does a nice job of "handling" Deborah Kerr's voluminous hoopskirts). Most of the Broadway version's best songs ("Getting to Know You", "Whistle a Happy Tune", "A Puzzlement", "Shall We Dance" etc.) are retained. None of the omissions are particularly regrettable, save for Anna's solo "Shall I Tell You What I Think of You?" This feisty attack on the King's chauvinism was specially written to suit the talents of Gertrude Lawrence, who played Anna in the original production; the song was cut from the film because it made Deborah Kerr seem "too bitchy" (Kerr's singing, incidentally, is dubbed for the most part by the ubiquitous Marni Nixon). When all is said and done, the principal attraction of The King and I is Yul Brynner, in the role that made him a star and with which he will forever be identified. ~ Hal Erickson, Rovi
Critic Reviews for The King and I
Audience Reviews for The King and I
An English teacher takes up residence in the King of Siam's palace. There are some films that succumb to what I call the "D.W. Griffiths Effect." Lawrence of Arabia is the first one that pops into my mind. The film is racist in our time but isn't in its own. So the film becomes stuck in its own era, unable to transcend to the timeless. Few films are so well-made and of themselves delightful that a conscientious critic can both enjoy and abhor it at the same time. The King and I is one of the latter. Certainly subject to the D.W. Griffiths Effect, with Yul Brynner speaking in a mockery of an Asian accent and little Asian kids short-stepping about in the kind of cuteness that Westerners endow the East, The King and I is nevertheless charming, and Brynner is as charismatic and wildly sexy as ever. It's a likeable film, harmless in its simplicity and eminently hummable. The best that can be said of Deborah Kerr is that she is able to move in a massive dress. Overall, there are some people who argue that the D.W. Griffiths Effect is bullshit, that we should judge a film based on its own time, and they must love this film.
Jim Hunter
Super Reviewer
Great musical if not somewhat racist with Yul Brynner playing an Asian king.
Christian C
Super Reviewer
½
Sumptuous as this is undoubtedly, it's the battle between Kerr and Brynner that's most memorable. Brynner won Best Oscar for his performance ... see if you agree that he doesn't indeed deserve it.
Kevin M. Williams
Super Reviewer
The King and I Quotes
| | |
| --- | --- |
| Anna Leonowens: | How do you explain the fact, Your Majesty, that many men remain faithful to one wife? |
| King Mongkut of Siam: | They're sick. |
| | |
| --- | --- |
| King Mongkut of Siam: | British not scientific enough for the use of chopsticks. |
| | |
| --- | --- |
| The King of Siam: | â??There are times I almost think I am not sure of what I absolutely know. Very often find confusion in conclusion I concluded long ago. In my head are many facts that, as a student, I have studied to procure. In my head are many facts of which I wish I was more certain I was sure.â?? â?? Richard Rogers |
| The King of Siam: | There are times I almost think I am not sure of what I absolutely know. Very often find confusion in conclusion I concluded long ago. In my head are many facts that, as a student, I have studied to procure. In my head are many facts of which I wish I was more certain I was sure. Richard Rogers. |
| | |
| --- | --- |
| The King of Siam: | It's a puzzlement! |