King Kong
(1933)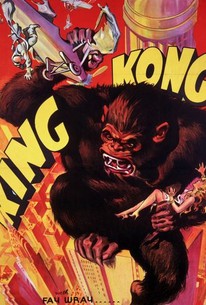 TOMATOMETER
AUDIENCE SCORE
Critic Consensus: King Kong explores the soul of a monster -- making audiences scream and cry throughout the film -- in large part due to Kong's breakthrough special effects.
Movie Info
"How would you like to star opposite the tallest, darkest leading man in Hollywood?" Enticed by these words, brunette leading lady Fay Wray dyed her hair blonde and accepted the role of Ann Darrow in King Kong -- and stayed with the project even after learning that her "leading man" was a 50-foot ape. The film introduces us to flamboyant, foolhardy documentary filmmaker Carl Denham (Robert Armstrong), who sails off to parts unknown to film his latest epic with leading lady Darrow in tow. Disembarking at Skull Island, they stumble on a ceremony in which the native dancers circle around a terrified-looking young girl, chanting, "Kong! Kong!" The chief (Noble Johnson) and witch doctor (Steve Clemente) spot Denham and company and order them to leave. But upon seeing Ann, the chief offers to buy the "golden woman" to serve as the "bride of Kong." Denham refuses, and he and the others beat a hasty retreat to their ship. Late that night, a party of native warriors sneak on board the ship and kidnap Ann. They strap her to a huge sacrificial altar just outside the gate, then summon Kong, who winds up saving Ann instead of devouring her. Kong is eventually taken back to New York, where he breaks loose on the night of his Broadway premiere, thinking that his beloved Ann is being hurt by the reporters' flash bulbs. Now at large in New York, Kong searches high and low for Ann (in another long-censored scene, he plucks a woman from her high-rise apartment, then drops her to her death when he realizes she isn't the girl he's looking for). After proving his devotion by wrecking an elevated train, Kong winds up at the top of the Empire State Building, facing off against a fleet of World War I fighter planes. ~ Hal Erickson, Rovi
Critic Reviews for King Kong
Audience Reviews for King Kong
Few images can be as iconic in the history of Cinema as King Kong on top of the Empire State building fighting airplanes, and this is an entertaining classic that should be remembered for those stop-motion special effects that were absolutely amazing for the time it was made.
Carlos Magalhães
Super Reviewer
An impulsive director whisks an unknown actress to an unexplored island to capture a mythic beast on film. The Jurassic Park of its day, King Kong is the original monster movie. Unfortunately the very element that no doubt wowed audiences of the time are now its greatest handicap; the visual effects. Special effects have obviously moved on a great deal over the last 80 years, consequently the creaky stop-motion animation is rather shocking by today's standards and the close ups of the beast's face look like a glove puppet manufactured by someone whose sole information about a gorilla's visage was supplied by an attention deficit toddler. That's not to say that the original Kong is not without its charms; it has a real sense of nostalgic adventure, the other effects have fared rather better than the creatures and Fay Wray manages to be extremely sexy despite being dis-robed by a plasticine primate! Although it's no doubt sacrilege to suggest, but Peter Jackson's re-invention is actually rather better despite its penchant for unnecessary excess and not just because of the visuals. It has better dialogue, greater depth of character, stronger performances and thanks to the talents of Andy Sirkis, a much more emotionally engaging ape. Still, King Kong can be seen as a real benchmark in the evolution of cinema and as such will always be worth a viewing.
½
As far as I'm concerned, "Action/Adventure" as a genre begins here: this is the strange and beautiful that directors like Spielberg, and Lucas, and Cameron (and unfortunately, Roland Emmerich, too) have kept striving to capture on screen - the sublime, the unimaginable, the terrifying. Animated by stop-motion, (cutting edge for its day), Kong is the Hollywood monster all others wish to be - he even takes down a T-Rex! But leaving aside my childish joy, I can complain that the pre-historic animal fight scenes were a bit extraneous and stretched the movie out longer than it needed to be. It's a small knock on a film for the ages, though. I watched it on Turner Classic, and before it started Ben Mankiewicz said this was the first film for which a score was composed (all previous used other music). It's worth noting because the music is as big a part of the thrill from this movie as any other, setting the pace and quickening your pulse as the story ticks along. Also, the film contains one of the best foreshadows you'll ever see, when Ann (the novice actress) is practicing screaming for the tests. It gives you goosebumps before you arrive on the island and the intrigue begins for real. The scenes with the natives are absolutely riveting, and the effects, though rough, are surprisingly good, allowing for an expressive monster when we finally meet him. In all, it's an age-old story, one of the greater ones ever told, and as soon as enough time has passed, we could probably put it into the class of "archetype." Visionary, brilliant film that should never be forgotten, and essential viewing for anyone who claims to enjoy movies.
Daniel Perry
Super Reviewer
King Kong Quotes
| | |
| --- | --- |
| Police Captain: | The planes got him |
| Police Captain: | Well, Denham, the airplanes got him. |
| Carl Denham: | Oh no, it was beauty killed the beast |
| Carl Denham: | Oh no, it was beauty killed the beast. |
| | |
| --- | --- |
| Carl Denham: | No, it wasn't the airplanes. It was beauty killed the beast. |
| | |
| --- | --- |
| Carl Denham: | It Was Beauty Killed The Beast. |
| Carl Denham: | It was beauty killed the beast. |
| | |
| --- | --- |
| Ann Darrow: | Do you always take the pictures you sell? |
| Carl Denham: | Ever since a trip I made to Africa. I'd have got a swell picture of a charging rhino, but the cameraman got scared. The darn fool, I was right there with a rifle! Seems he didn't trust me to get the rhino before it got him. I haven't fooled with a cameraman since; I do it myself. |