King Solomon's Mines
(1937)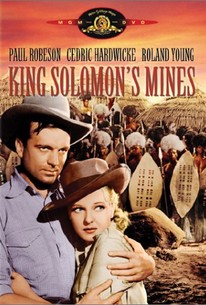 King Solomon's Mines Photos
Movie Info
The first of three talkie versions of H. Rider Haggard's adventure novel King Solomon's Mine was produced by British Gaumont. While Cedric Hardwicke plays the nominal leading role of explorer Alan Quartermaine, top billing goes to African-American singing-star Paul Robeson, who plays dauntless native- guide Umbopa. The plot gets under way when Anna Lee organizes an expedition to locate her father, who has disappeared in the wilds of Africa while searching for King Solomon's Mines, a legendary diamond repository. Umbopa's motivation for guiding the expedition is to reclaim the tribal throne wrested from him by treacherous witch-doctor Gagool (Sidney Fairbrother). At first treated as white gods by the natives, the explorers soon find their lives imperiled. Thanks to Umbopa's know-how, the whites are saved from a horrible death and the evil tribesmen are overthrown. As for King Solomon's Mines, Quartermaine and his party finally locate the fabled diamond cache--and then fate deals an ironic hand, as fate has a habit of doing.
Critic Reviews for King Solomon's Mines
Audience Reviews for King Solomon's Mines
Standard 1930's adventure safari tale ("Let's go find a lost treasure!") with 2 twists: witty dialogue and Mr Paul Robeson, who gives out with 3 songs AND is an integral part of the action. There's the obligatory love story, too, but its actually downplayed. Good times! The difference between the studio shot scenes and those done by the second unit are glaring, shaking up the suspension of disbelief thing, by it's doable.
Kevin M. Williams
Super Reviewer
It's hard to know what was crappier..the movie or the book that doesn't resemble it but isn't any bit better. A complete waste of time.
John Ballantine
Super Reviewer
This early version of the H. Rider Haggard adventure story doesn't hold a candle to the 1950 film with Stewart Granger and Deborah Kerr. Anna Lee as Irish lass (with a terrible accent) Kathy O'Brien, is far too happy and perky in comparison to the seriousness of the story -- rescuing her father who has gone out alone into the African wilderness to search for a fabled diamond mine. By contrast, Cedrick Hardwicke is humorless and formal, and I never get the impression that he is the "Great White Hunter" he is supposed to be. Another part of the production that doesn't work for me is Paul Robeson. Not to take away from his wonderful voice, but his singing in this film completely stops the film (he does four songs), and the music is more minstrel than tribal, and totally inappropriate for the type of film. For an adventure film, this thing is pretty dull, although it does pick up in the last 20 minutes or so. Some of the scenes -- the long trek through the desert, for instance -- appear to be done on a soundstage. I know this is standard for a film of this vintage, but it's not always this obvious. I was expecting to see the players cast shadows on the matte background. The only agreeable thing I could find in this film was Roland Young. He is the comic relief, and delivers the best lines, all seemingly off-the-cuff statements on the various predicaments the group gets into. I'm a big fan of the 1950 film, and I know I will continue to be. This is one example of a very few where the remake outshines the original.
King Solomon's Mines Quotes
There are no approved quotes yet for this movie.