The Lady Vanishes
(1938)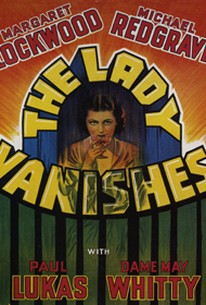 TOMATOMETER
AUDIENCE SCORE
Critic Consensus: One of Alfred Hitchcock's last British films, this glamorous thriller provides an early glimpse of the director at his most stylishly entertaining.
Movie Info
Miss Froy disappears on her return train trip from a vacation in the Balkans. However, Iris Henderson is the only person, on a train filled with suspicious and unsavory characters, who can attest that Miss Froy was ever on that trip.
News & Interviews for The Lady Vanishes
Critic Reviews for The Lady Vanishes
Audience Reviews for The Lady Vanishes
½
International intrigue blends with romance as one passenger aboard a European railway disappears and everyone who ever saw the lady denies it. Things are kept light and airy, breezy, despite conspiracy theories and knife fights with magicians, with plenty of comic shots at the expense of the stiff-upper-lip-English, who refuse to believe anything could happen outside of their control. Was this really made in 1938?!? It seems as fresh anything made today .
Kevin M. Williams
Super Reviewer
An enjoyable but overrated film that wants so much to be funny (and make fun of British people who think only about their own problems) that it doesn't have any tension, with a plot that, even with a curious premise, is just too contrived to be taken seriously.
Carlos Magalhães
Super Reviewer
This film is one of Hitchcock's most famous, and earliest triumphs in London, gliding him into box office fame, and inspiring an entire new generation of filmmakers. With this, his most complex and inciting work to date, the master of suspense really drags out the plot until it finally unravels in a most thrilling fashion. Hitchcock took a tale from 1880's London and transposed it for modern audiences, set it in a fictional European country, and included spies, gunfights, and an array of violence. The film is set on a train, uses very little setting, and concerns only a handful of people. Iris (Lockwood) is riding the train with an older woman she met at a hotel in the foreign country of Baldrika. Now, the fictitious country really could be anywhere in Eastern Europe, but I got the sense that it was trying to convey somewhere in Western Russia, because between the accents and the uniformity of the officers depicted, that's what I thought of. Iris and Miss. Froy (Whitty) board the train after Iris suffers an accident, and probably gets a concussion. She passes out, and when she awakes everyone on the train says that she must have imagined her. The rest of the film Iris and Gilbert (Redgrave) try to find her amongst the luggage, lying train staff, and comedic foils (Wayne and Radford). This remains one of Hitchcock's better remembered films because the premise is so strange. Someone disappearing happens quite a bit, but for that person to be regarded as imaginary, really makes it a psychological rollercoaster. In the last twenty minutes it shifts radically from a suspenseful thriller to action thriller. After the plot is unraveled for the audience and the villain has given exposition on their plan, there's a gunfight aboard the train, and the tone shifts radically. That was very surprising, especially since it made the film even more suspenseful. This may be the first action film of its kind, pairing wit and humor with unapologetic violence. Hitchcock melds genres for the first time, and it's as seamless as expected.
Spencer S.
Super Reviewer
The Lady Vanishes Quotes
| | |
| --- | --- |
| Gilbert Redman: | I just had the most idiotic idea. |
| Iris Henderson: | I quite believe that.... |
| | |
| --- | --- |
| Gilbert Redman: | Stop hopping like a referee! Do something! |