The Ladykillers
(1955)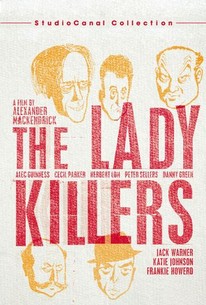 Movie Info
Music professor Alec Guinness rents a London flat from sweet old lady Katie Johnson. He tells her that, from time to time, several other musicians will visit in order to rehearse. In truth, Guinness can't play a note, nor can his visitors: he's a criminal mastermind, holding court over a gang of thieves, including the likes of punkish Peter Sellers, homicidal Herbert Lom and punchdrunk Danny Green. The gang uses Guinness' flat as headquarters as they conceive a daring 60,000 pound robbery. After pulling off the job, the gang stuffs the loot in a railway station locker. To avoid detection, Guinness convinces the ever-trusting Johnson to pick up the money. Through a series of comic complications, Johnson returns home with a police escort, with neither the woman nor the bobbies suspecting that she's carrying a fortune in her suitcase. Mistakenly believing that Johnson has ratted on them, the gang reluctantly plans to eliminate her. The Ladykillers won an Oscar nomination for William Rose's screenplay, and a BFA award for veteran character actress Johnson. ~ Hal Erickson, Rovi
Critic Reviews for The Ladykillers
Audience Reviews for The Ladykillers
½
Not as entertaining as the remake I felt, but was good to be able to compare the two, especially with the location differences as well.
Lady D'arbanville
Super Reviewer
½
A hilarious story, I loved it.
½
I didn't enjoy this quite as much as the person who recommended it to me, but the little old lady is worth the price of admission. UPDATE: Saw this again today, and was a little more impressed. Although I still think it starts off rather slow, it has a deliciously twisted ending. I remember that Kind Hearts and Coronets had a similar arc. I'm wondering if that's the style of older Brit comedies in general. Maybe I shouldn't be in such a hurry to turn them off.
The Ladykillers Quotes
There are no approved quotes yet for this movie.